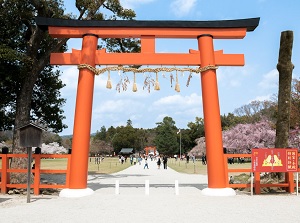 First Torii in Kamigamo Shrine
Photo by inariage.com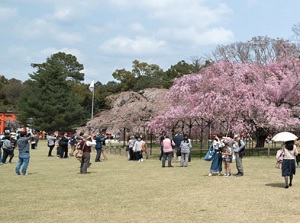 Kamigamo Shrine in spring
Photo by inariage.com
Kamigamo Shrine is a Shinto shrine located about 4 km northwest of Shimogamo Shrine along Kamo River.
In Japanese, this shrine is called "Kamigamo Jinja" and the formal name is Kamo-wakeikazuchi Jinja (賀茂別雷神社).
According to Japanese myth, a god appeared on a mountain near current shrine in the ancient time that the gods created Japan.
Then, it is said that this shrine was founded in 678.
It is sure that this shrine had been important with Shimogamo Shrine since that time.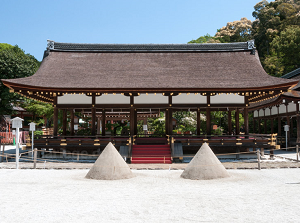 Hosodono & Tatezuna in Kamigamo Shrine
Photo by inariage.com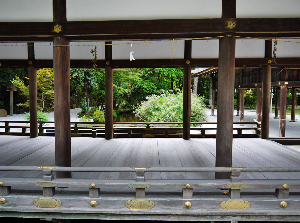 Hashidono in Kamigamo Shrine
Photo by Kyoto Free Photo
After passing through the first Torii gate, there is the approach about 200 meters long.
Then after passing through the second Torii gate, we enter the precinct.
There is Hosodono (細殿) in the center of the precinct.
It had been a waiting room for the emperor before worshipping.
In front of Hosodono, we find a pair of conical sand monuments called Tatezuna (立砂).
Each monument means the mountain where a god appered, and it is believed that the god comes down at these monuments when the festival is held.
A stream flows by Hosoden, and there is Hashidono (橋殿) over the stream.
It had been a stage for the ceremony of the emperor.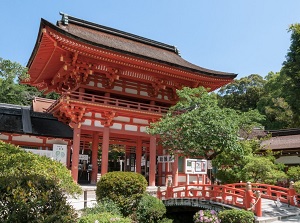 Roumon in Kamigamo Shrine
Photo by inariage.com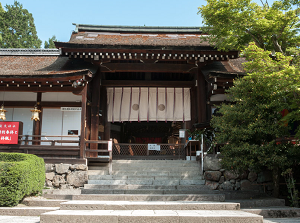 Chumon in Kamigamo Shrine
Photo by Kyoto Free Photo
After crossing a bridge, we pass through Roumon gate (楼門).
We reach the main shrine.
There is Chûmon gate in front of us and we worship there.
Honden (本殿, Main shrine) and Gonden shrine (本殿, Main shrine) are behind Chumon.
Taking pictures is prohibited.
Most of the buildings in this shrine were rebuilt in 1628, and they are designated as important cultural properties.
Only Honden and Gonden are rebuilt in 1863, but they are designated as national treasures.
This shrine is one of 17 constructions of "Historic Monuments of Ancient Kyoto" designated as a World Heritage Site.
Aoi Festival held with Shimogamo Shrine in May 15 is one of the major festivals in Kyoto.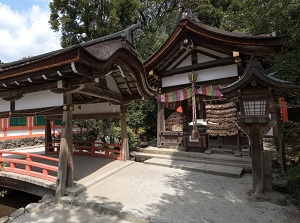 Kataoka-no-Yashiro
Photo by inariage.com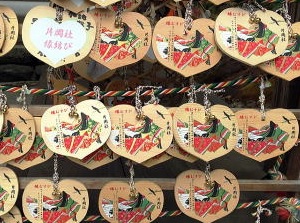 Emas of Kataoka-no-Yashiro
In addition, there is small Kataoka-no-Yashiro (片岡社) by Roumon gate.
It is one of auxiliary shrines of Kamigamo shrine, and is popular as a god of matchmaking.
To make the wishes come true, you can dedicate an Ema (votive horse tablet) to the shrine.
Ema in this shrine is in the shape of a heart.
How to get here
The nearest station of subway is Kita-oji (●K04 Karasuma Line).
Then, get on the route bus from there.
About 10 minutes to Kamimogamo-jinja-mae or Kamigamo-Misonobashi stop.
Hotels in Kita Ward
Other Tourist Attractions in Kyoto Prefecture