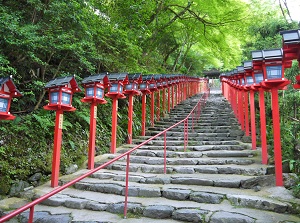 Approach to Hongu of Kifune Shrine
Photo by Kyoto Free Photo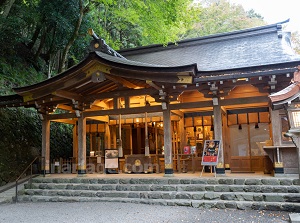 Main shrine in Hongu of Kifune Shrine
Photo by inariage.com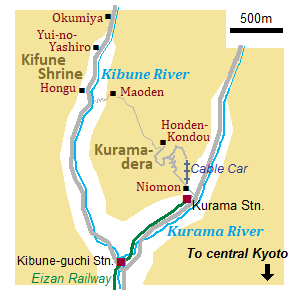 Kifune Shrine ("Kifune Jinja" in Japanese) is a Shinto shrine located about 15 km north of central Kyoto.
Kibune River flows from north to south and forms a valley.
Kurama-dera is in the mountain on the east side of the valley.
The place name around this area is "Kibune", but the name of shrine is "Kifune".
It is not known exactly when this shrine was founded.
The history of the shrine says that it was founded during the period of the 18th Emperor Hanzei (336-410).
And, it says that the buildings were rebuilt around 666 first.
A god of water has been enshrined in Kifune Shrine.
So, rituals for rain had been sometimes done in ancient times.
In addition, this shrine has been believed to be a god of marriage (matchmaking).
Some say that the effect of matchmaking by Kifune Shrine is the strongest in Kyoto.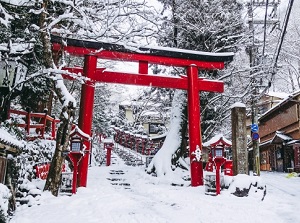 Entrance to Hongu in winter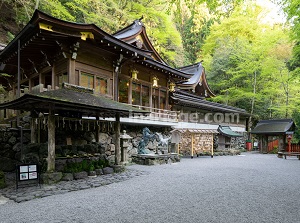 Hongu of Kifune Shrine
Photo by inariage.com
This shrine has separately-placed three pavilions.
They are dotted along Kibune River.
The main shrine is Hongû (本宮) and is the central shrine.
The god of water is enshrined in this shrine.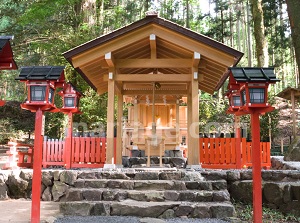 Yui-no-Yashiro of Kifune Shrine
Photo by inariage.com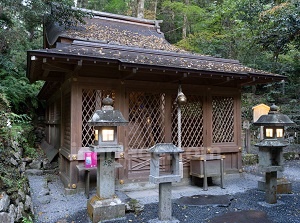 Main shrine in Okumiya of Kifune Shrine
Photo by inariage.com
Nakamiya (中宮) is located about 400 meters north of Hong&ocurc;.
Another name is Yui-no-Yashiro (結社) and the god of marriage is enshrined in this shrine.
If you write your wish on a strip and tie it to a pole, it is said that your wish will come true.
Okumiya (奥宮) is located about 500 meters north of Yui-no-Yashiro.
It was the original shrine, and the god of water is enshrined.
Three shrines are placed in above order.
But, when worshipper visit all shrines, "Hongu, Okumiya, Yui-no-Yashiro" is the formal order.
"Omikuji" is a written oracle by drawing lots in Shinto shrine.
You shake a wooden box, and a thin stick with a number comes out.
You get the omikuji sheet corresponding to the number.
The good or bad luck of your fortune is written in the sheet.
Also the fortunes about your health, academics, business, marriage proposals, and victory or defeat are written.
But, Omikuji in Kifune Shrine is different from the normal one.
You select a white sheet of Omikuji.
Then you float the Omikuji on a sacred pond in Kifune Shrine.
So, the oracle for you appears on the Omikuji sheet by water.
Recently, it is said that the oracle often comes true.
In addition, it has QR code.
By QR Translator, you can read it in English, Chinese and Korean.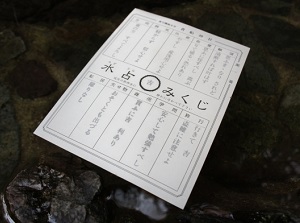 Omikuji on water in Kifune Shrine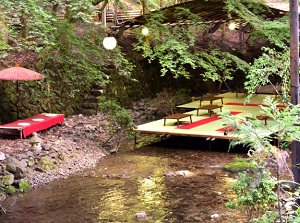 Kawadoko around Kifune Shrine
Along Kibune River, there are some restaurants and ryokans.
In summer, many of them set up a terrace by the river.
It is called Kawadoko, and it becomes the cool place to enjoy meal.
How to get here
By local train of Eizan Electric Railway, about 27 minutes from Demachiyanagi to Kibune-guchi.
To Demachiyanagi station, about 23 minutes from Kyoto station by route bus.
Or, Demachiyanagi is also the terminal station of Keihan Line, so it is convienient to come from the area around the east side of Kamo River such as Sanjo, Gion or Kiyomizudera.
Then, by route bus, about 5 minutes to Kibune stop.
Hotels in Sakyo Ward
Other Tourist Attractions in Kyoto Prefecture