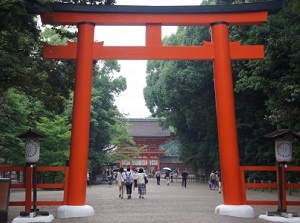 Shimogamo Shrine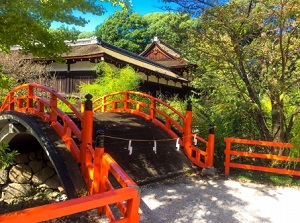 Bridge of Mitarashi-ike in Shimogamo Shrine
Shimogamo Shrine is a Shinto shrine located about 2 km northeast of Kyoto Gosho (Kyoto Imperial Palace).
Kamo River and Takano River meet to the east of Kyoto Gosho, and it looks like Y-shape on maps.
This shrine is just north of the Y junction.
In Japanese, this shrine is called "Shimogamo Jinja" and the formal name is Kamo-Mioya Jinja (賀茂御祖神社).
Accordind to Japanese myth, it is said that this shrine was founded in 90 B.C.
But some say that this shrine was set up by separation from Kamigamo Shrine located about 3.5 km north west of this shrine in the early 8th century.
It is sure that this shrine had been important with Kamigamo shrine since that time.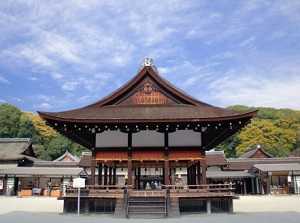 Buden in Shimogamo Shrine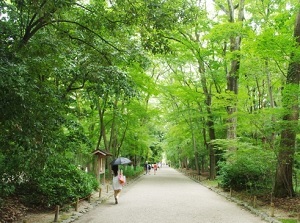 Approach in Tadasu-no-mori
Shimogamo Shrine is surrounded by a primeval forest since the ancient times.
It is called Tadasu-no-mori (糺の森).
The area is about 600 meters from north to south, and the width is 150 to 200 meters.
The main area of Shimogamo Shrine is located in the north part of the forest.
The main gate is at the south end and a straight approach about 450 meters long runs to the main area through the forest.
And some auxiliary and subsidiary shrines of Shimogamo Shrine are dotted in the forest.
A few of them are popular among tourists.
Shimogamo Shrine is one of 17 constructions of "Historic Monuments of Ancient Kyoto" designated as a World Heritage Site.
Aoi Festival held with Kamigamo Shrine in May 15 is one of the major festivals in Kyoto.
Kawai Shrine (
河合神社

)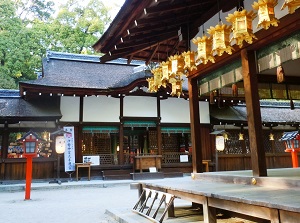 Kawai Shrine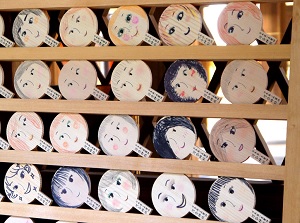 Dedicate Emas in Kawai Shrine
Photo by Kyoto Free Photo
Kawai Shrine ("Kawai Jinja" in Japanese) is near the entrance gate of Shimogamo Shrine.
It is one of auxiliary shrines of Shimogamo shrine.
A goddess "Tamayoribime" is enshrined and she is the goddess of beauty of woman.
Worshippers are said to be blessed with beauty, good match, smooth delivery, etc.
To make the wishes come true, you can dedicate a unique Ema to the shrine.
Ema is generally a votive horse tablet.
The Ema of this shrine is a shape of hand mirror and a face of woman is drawn on the one side.
If you put make-up on the face of Ema with your cosmetics and write your wish on another side of Ema then dedicate it, you will receive blessings of the goddess.
Aioi-no-Yashiro (
相生社

)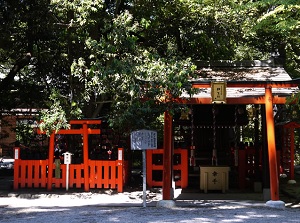 Aioi-no-Yashiro
Photo by Kyoto Free Photo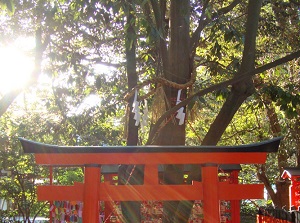 Renri no Sakaki at Aioi-no-Yashiro
Photo by Kyoto Free Photo
After walking along the approach, you reach Roumon gate (楼門).
From the gate, you can enter the sacred area of Shimogamo Shrine.
Near Roumon, there are sacred trees named as Renri no Sakaki.
The trunk of a tree has cut into the trunk of another tree naturally.
It means that a man and a woman become a couple, so the trees are known as the god of marriage.
Small Aioi-no-Yashiro shrine is in front of the trees, and it is one of subsidiary shrines of Shimogamo Shrine.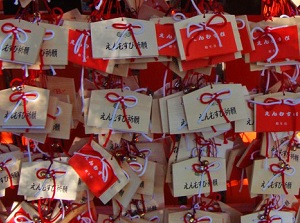 Emas at Aioi-no-Yashiro
Photo by Kyoto Free Photo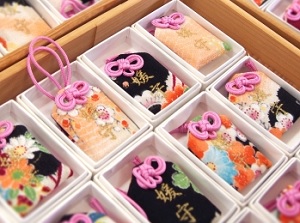 Lucky charms for matchmaking
First, you write a wish on the special Ema and tie the white and red strings.
Then, you walk around the trees and the shrine with the Ema two times, then dedicate it during the third round and worship.
(Woman must walk counterclockwise, and man must clockwise.)
If you do so, your wish will come true.
Main shrine of Shimogamo Shrine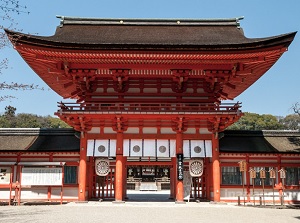 Roumon in Shimogamo Shrine
Photo by inariage.com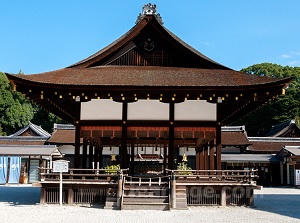 Buden in Shimogamo Shrine
Photo by inariage.com
In the precincts, there are many buildings.
Most of them were rebuilt in 1628.
They are designated as important cultural properties.
In the center of the precinct, there is Buden (舞殿).
It is a stage for the ceremony of the shrine.
And there is a sacred pond Mitarashi-ike (御手洗池) in the precinct.
It is a part of stream that clear water flows, and there is a small Mitarashisha (御手洗社) by the pond.
If you put your feet into the water, it is said that you will suffer no disease and become healthy.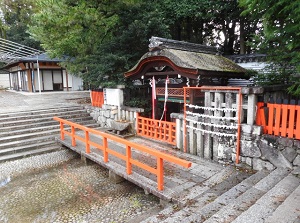 Mitarashisha in Shimogamo Shrine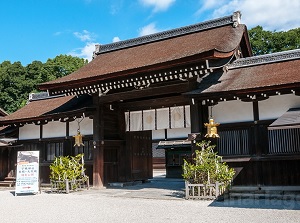 Chumon in Shimogamo Shrine
Photo by inariage.com
The central shrines are at the innermost part of the precinct.
They are in another precinct behind Chûmon gate (中門).
There are most sacred buildings in this shrine.
There is Heiden (幣殿) to worship.
And, Higashi-Honden (東本殿, East main shrine) and Nishi-Honden (西本殿, West main shrine) are behind Heiden.
These are the main shrines in Shimogamo Shrine, and a god and a goddess are enshrined in each shrine.
These were rebuilt in 1863, and they are designated as national treasures.
Around Heiden, there are seven small shrines.
They are called Kotosha (言社), and each of them enshrines a guardian deity of 12 animal zodiac in Chinese astrology.
How to get here
The nearest station of subway is Kita-oji (●K04 Karasuma Line).
Then, get on the route bus from there.
About 25 minutes to Shimogamo-jinja-mae stop.
Hotels in Sakyo Ward
Other Tourist Attractions in Kyoto Prefecture