Daitokuji is a Buddhist temple located at the north part of central Kyoto city.
Kinkakuji temple is located about 2 km west of this temple, and Kyoto Imperial Palace is located about 3 km southeast of this temple.
Daitokuji is the central temple of a sect of Rinzei school, one of the three Japanese Zen Buddhism.
This temple was founded in 1325.
Emperor Godaigo declared that he ranked this temple as one of Kyoto's five high-class temples in 1334.
But after political change, the rank of this temple had been virtually downgraded.
So, this temple departed from the protection of Emperor and the government.
On this occasion, this temple was committed to practicing Zen sitting meditation.
Since that, this temple had created many excellent priests, and attracted a wide range of people.
Especially, Ikkyu Soujun (1394-1481) is well known to the Japanese as a witty priest.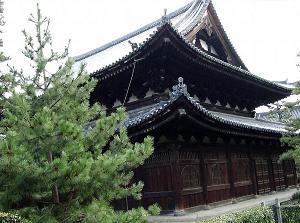 Hattou of Daitokuji

Jizou statues near Daitokuji
Photo by Kyoto Free Photo
And some masters of tea ceremony joined the Zen practice, so this temple has been deeply related to tea ceremony.
There is Chokushimon gate (勅使門, built around the 1600s), and the main gate is big Sanmon gate (山門, built in 1589).
And there are Butsuden temple (仏殿, built in 1665), Hattou hall (法堂, built in 1636).
Karamon gate (唐門) and Houjou (方丈) are designated as national treasures, but we are not allowed to visit Houjou.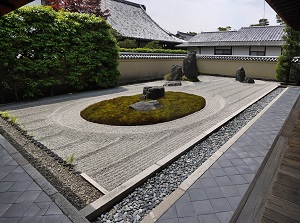 Japanese garden in Ryogen-in
Photo by Kyoto Free Photo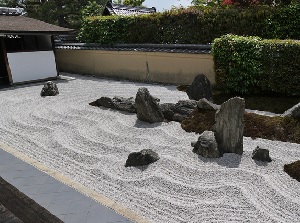 Japanese garden in Zuiho-in
Photo by Kyoto Free Photo
In the precincts, there are 24 small temples around central buildings of Daitokuji.
These are in the range about 400 meters from east to west and about 500 meters from north to south.
Daitokuji includes the temples, and is like a temple town.
They were built by the disciples after the death of their master priests.
We can visit only four temples of them.
Ryôgen-in (龍源院) and Zuihô-in (瑞峰院) are just to the south of Chokushimon gate.
Kôtô-in (高桐院) is about 250 meters west to Hattou.
And, Daisen-in (大仙院) is about 100 meters north to Hattou.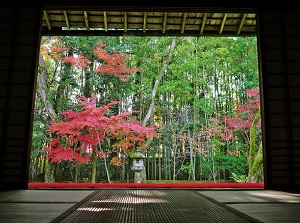 Japanese garden in Koto-in
Photo by Kyoto Free Photo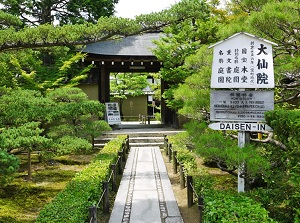 Entrance of Daisen-in
Photo by Kyoto Free Photo
These temples have beautiful Japanese garden.
The other 20 temples are not regularly opened to the public.
How to get here
The nearest station of subway is Kita-oji (●K04 Karasuma Line).
Then, get on the route bus from there.
About 8 minutes to Daitokuji-mae stop.
Hotels around Daitokuji
Other Tourist Attractions in Kyoto Prefecture