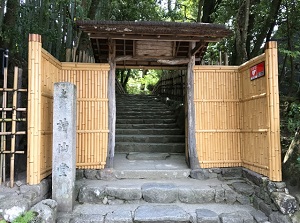 Entrance gate of Shisendo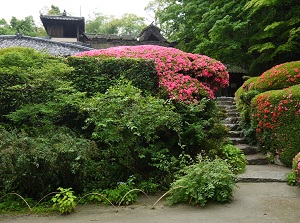 Villa of Shisendo and azaleas
Photo by Kyoto Free Photo
Shisendo is a Buddhist temple of Soto school, one of three sects of Japanese Zen Buddhism.
The last "o" is pronounced long, so it is read as "Shisendô".
It is located about 3 km east-northeast of Shimogamo Shrine and about 2.5 km north of Ginkakuji.
Shisendo is originally a villa built by Ishikawa Jôzan (1583-1672) in 1641.
The villa became current Buddhist temple in 1966, and the name is Jozanji (丈山寺) from his name.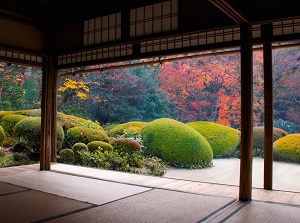 Shisendo in autumn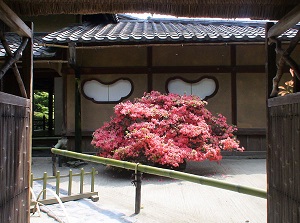 Azaleas in Shisendo
Jozan was a samurai and a literary man, and he built this villa for his retirement.
He was also a good designer of Japanese garden, and he produced a villa with beautiful gardens on this hilly site.
He designed to enjoy the changing seasons.
Especially azeleas in late May and red maples in late November are very beautiful and popular.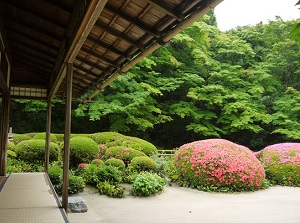 Garden of Shisendo and azaleas
Photo by Kyoto Free Photo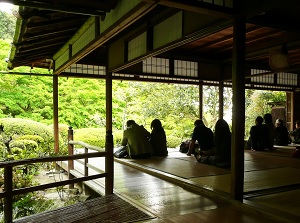 Visitors in Shisendo
"Shishi-odoshi" (or "souzu") like a seesaw of bamboo is an equipment set up in most Japanese gardens, and it was invented by Jozan.
Trickling water flows into the bamboo cylinder.
After it has been filled with enough water, it leans under the weight of water.
Then all water spill out.
The empty bamboo cylinder returns again to the original position naturally.
By its rebound, the bottom of the bamboo hits the stone on the ground.
The sound sometimes echoes in quiet garden.
Shishi-odoshi in Shisendo is famous.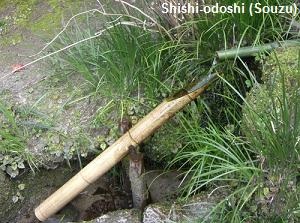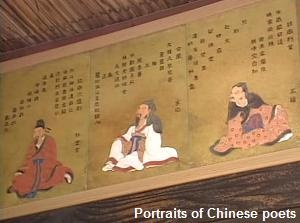 "Shisen" means "masters of poem".
Jozan set up the portraits of historic excellent 36 Chinese poets drawn by Tan-yu Kano (1602-1674, a talented japanese painter) in a room.
How to get here
By route bus, get off at Ichijoji Sagarimatsucho stop.
About 37 minutes from Kyoto station, about 14 minutes from Kita-oji subway station.
About 5 minutes walk from there.
Hotels in Sakyo Ward
Other Tourist Attractions in Kyoto Prefecture