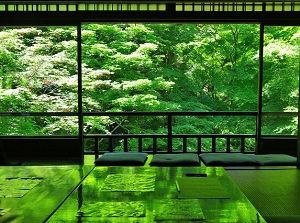 Green leaves in Ruriko-in
Photo by Kyoto Free Photo
Ruriko-in is a Buddhist temple of Jodo-Shinshu, a school of Pure Land Buddhism in Japan.
It is located at the western foot of Mount Hiei and is about 1.5 km northeast of Shugakuin Imperial Villa.
Originally, this site was a villa owned by a businessman in the early 20th century.
After that, the owner changed and current Eizan Railway owned this site.
In fact, this site is near Yase-Hieizan-guchi terminal station of Eizan Railway.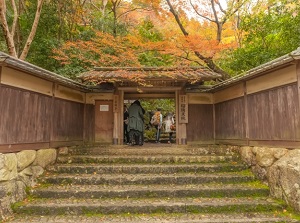 Entrance gate of Ruriko-in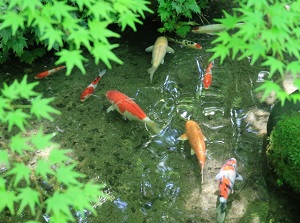 Pond in Ruriko-in
In the 2000s, Komyoji temple in Gifu city bought this site and the main temple was built in 2005.
So, this temple is one of the newest temple in Kyoto.
But, there has been the beautiful Japanese gardens in this site, so the maple leaves have become popular rapidly.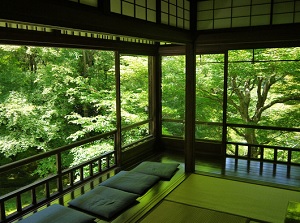 Green leaves in Ruriko-in
Photo by Kyoto Free Photo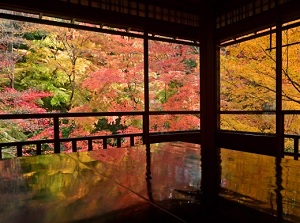 Colored leaves in Ruriko-in
Basically, the gardens are open to the public only in early summer and autumn.
Early summer is the season of fresh green leaves, so it is opened from the middle of April to June.
Autumn is the season of colored leaves. and it is opened from October to early December.
Especially, because some tables like mirror are set up in the room facing the garden, so the image of the scenery reflected by the table is very attractive.
How to get here
By Eizan Railway, 14 minutes from Demachiyanagi to Yase-Hieizan-guchi.
About 400 meters walk from there.
Hotels in Sakyo Ward
Other Tourist Attractions in Kyoto Prefecture