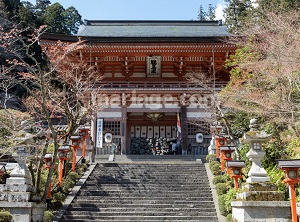 Niomon of Kurama-dera
Photo by inariage.com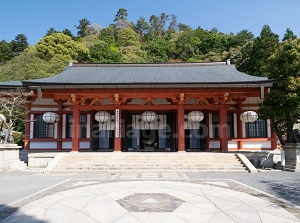 Honden-Kondou of Kurama-dera
Photo by inariage.com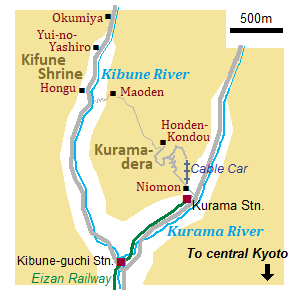 Kurama-dera is a Buddhist temple in the mountain located about 15 km north of central Kyoto.
The temple was founded by priest Gantei in the 8th century.
Gantei was one of disciples of Ganjin (688-763) who was an excellent Chinese high priest and became a naturalized Japanese in 752.
One night in 772, Gantei saw a spiritual dream.
And, the dream told that there was a sacred mountain in the north of Kyoto.
Then he traveled toward north.
He saw a white horse flying over a mountain.
In the mountain, he found a statue of Bishamonten, one of the gods of Buddhism.
So, he built a temple to enshrine the statue.
It was current Kurama-dera temple.
In 796, a nobleman hoping to build a temple also came here with seeing a flying white horse.
He wanted to enshrine a statue of Kannon.
But, the existing temple had the Bishamonten, so he wondered why a different statue was here.
On the night, in his dream, he was taught that Kannon and Bishamonten were from a same god of Buddha.
So he enshrined a statue of Kannon with Bishamonten.
Above story is the origin of Kurama-dera.
In 1947, a new god "Gohou-Maouson" was added into this temple.
It is a god who came here from Venus 650 million years old ago.
He looks like an old man with beards, a red face and a long nose.
And he has wings on his back like angel.
In general, the queer god is called "Tengu", and is a symbol of Kurama-dera.
Kurama River flows from north to south and forms a valley.
Kurama-dera is on the mountainside on the west side of the valley.
To visit here, Eizan Electric Railway is convenient.
The nearest station is Kurama station.
There is a monument of Tengu near the station.
The entrance gate of the temple is Niomon (仁王門).
It was built in the 1180s, and was rebuilt in 1911 after the destruction by fire.
The main temple is on the mountainside, and the difference in height is about 160 meters.
If you go up to there on foot, you must walk on a very steep way about 1.1 km long.
It takes over 30 minutes.
On the way, there is Yuki Shrine (由岐神社).
It was founded in 940.
A cable car operated by the temple is set up and you can go to a height of about 120 meters.
You must go up remaining 40 meters high for about 500 meters long.
(The temple recommends visiting on foot.)
There are some buildings in the temple grounds on the mountainside.
The buildings had been destroyed by fire sometimes in a long time.
The main temple Honden-Kondou (本殿金堂) was rebuilt in 1971, and the other buildings were rebuilt in the 20th century.
There is the museum housing the three important statues in the temple grounds.
They are designated as national treasures.
There is small Maôden temple (魔王殿) enshrining Gohou-Maouson about 1 km northwest of the temple grounds.
And Kifune Shrine is located about 0.6 km west of Maoden.
These are connected with a steep mountain trail.
How to get here
By local train of Eizan Electric Railway, about 30 minutes from Demachiyanagi to Kurama.
To Demachiyanagi station, about 23 minutes from Kyoto station by route bus.
Or, Demachiyanagi is also the terminal station of Keihan Line, so it is convienient to come from the area around the east side of Kamo River such as Sanjo, Gion or Kiyomizudera.
Other Tourist Attractions in Kyoto Prefecture