Main gate of Ryoanji
Photo by inariage.com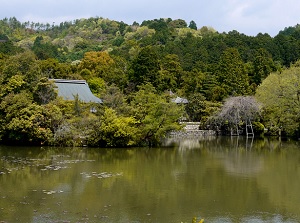 Kyoyochi pond & Houjou in Ryoanji
Photo by Kyoto Free Photo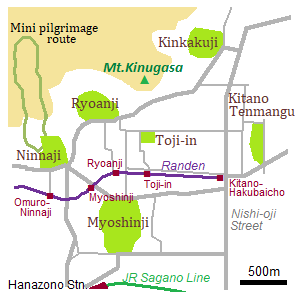 Ryoanji is a Zen Buddhist temple located at the northwest part of central Kyoto.
"O" in the word is pronounced long, so it is read as "Ryôanji".
Kinkakuji temple is located about 1.5 km northeast of this temple.
Small Mount Kinugasa ("Kinugasayama", 201 m) is on the east side of the temple.
This temple is one of 17 constructions of "Historic Monuments of Ancient Kyoto" designated as a World Heritage Site.
This temple was founded in 1450.
Most of the buildings were destroyed by fire in 1797, then they were rebuilt after that.
There is Kyôyôchi pond (鏡容池) in the south part of the site, and some buildings are to the north.
A Japanese garden is formed around the pond.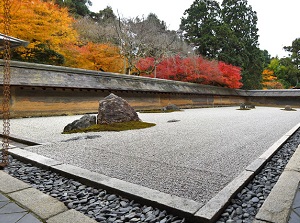 Sekitei in Ryoanji in autumn
Photo by Kyoto Free Photo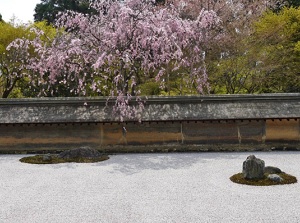 Sekitei in Ryoanji in spring
Photo by Kyoto Free Photo
The central building is Houjou hall (方丈).
It was built in 1606, and it is designated as important cultural property.
The garden of Houjou is a rock garden, and is well-known.
In Japanese, it is called Sekitei.
The rock garden is about 10 meters long and about 25 meters wide.
It is filled with white sand, and many lines are set up on the surface with rakes.
In the garden, 15 various rocks are arranged.
Apparently, it seems that the rocks have been put at random.
They are divided into five groups. (Each group has 5, 2, 3, 2 and 3 rocks.)
When we see this garden, we can find 14 rocks in our vision and only one rock is hidden at the back of these rocks.
But it is said that we can find all rocks only at the center of Houjou.
With seeing this simple but meaningful garden, we can enjoy thinking something silently.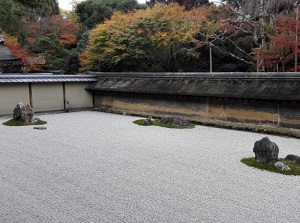 Sekitei in Ryoanji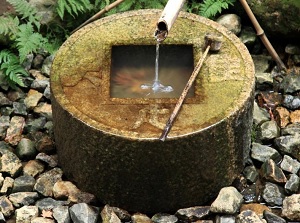 Tsukubai in Ryoanji
Photo by Kyoto Free Photo
And, there is Tsukubai on the north side of Houjou.
It is a stone washbasin created aroound the end of the 17th century.
A round stone is hollowed out a square, and the square is each part of four kanji characters (Chinese characters) curved on the stone. (吾唯足知)
By the four charachters, a short Chinese sentence is formed.
The meaning is "I simply know what is enough".
Please think what the sentence means for you.
How to get here
Then, by route bus, about 5 minutes from Kinkakuji-michi stop to Ryoanji-michi stop.
Or, By Randen tram (Kitano Line of Keifuku Electric Railway), about 3 minutes from Kitano-Hakubaicho to Ryoanji.
Then about 10 minutes walk from there.
Hotels in Kita Ward
Other Tourist Attractions in Kyoto Prefecture