Katsura Imperial Villa [
桂離宮

]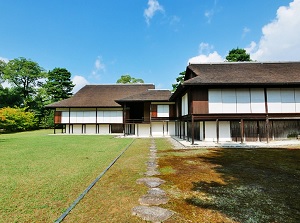 Ko-Shoin, Chu-Shoin, Shin-Goten in Katsura Rikyu
Photo by Kyoto Free Photo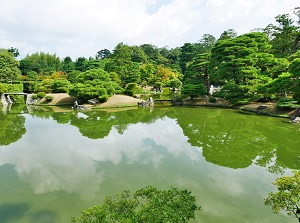 Japanese garden in Katsura Rikyu
Photo by Kyoto Free Photo
Katsura Imperial Villa ("Katsura Rikyû" in Japanese) is one of the villas of Emperor Family.
It is in the western suburb of central Kyoto.
It is located about 5 km west of Kyoto station, and about 5 km southeast of Arashiyama district.
Katsura River flows just east of this villa.
This villa was built in the early 17th century as the villa of Katsura-no-miya Family, one of the Imperial Family.
The family line had died out in 1881, and this villa has been managed by Imperial Household Agency since that.
We must apply for visit to the agency in advance.
Additionally, the visitors under 18 years old aren't allowed to enter this villa.
Visitors join the guided tour, and it takes about an hour.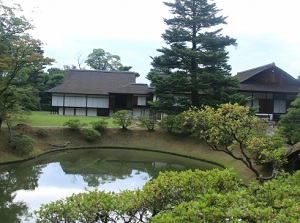 Ko-Shoin, Shin-Goten in Katsura Rikyu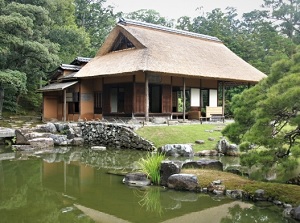 Shokintei in Katsura Rikyu
The site is about 250 meters from east to west and about 250 meters from north to south.
Near the entrance, there are main buildings.
They are Ko-Shoin (古書院, Old study hall), Chû-Shion (中書院, Middle study hall), and Shin-Goten (新御殿, New Palace).
There is a large pond to the east of these buildings.
The shape of the pond is complicated, and a broad Japanese garden around the pond.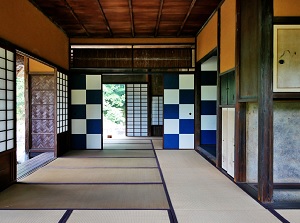 Inside of Shokintei
Photo by Kyoto Free Photo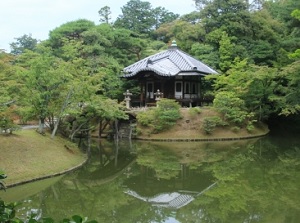 Onrindo temple in Katsura Rikyu
Around the garden, a few small tea houses are dotted.
Especially, Shôkintei (松琴亭) is an attractive thatched-roofed house.
How to get here
By route bus, about 25 minutes from Kyoto station to Katsura-rikyu-mae stop.
Then about 8 minutes walk.
Or, by Hankyu Railway, get off at Katsura station.
Then about 20 minutes walk from there. (About 1.2 km)
Hotels in Kyoto city
Other Tourist Attractions in Kyoto Prefecture