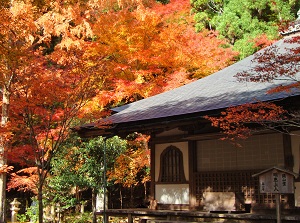 Kozanji in autumn
Photo by Kyoto Free Photo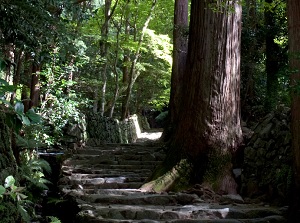 Approach of Kozanji
Photo by inariage.com
Kozanji is a temple of Shingon Buddhism.
It is also called Kosanji, and "o" in the word is pronounced long.
So it is read as "Kôzanji" or "Kôsanji".
The temple is in the mountain located about 15 km northwest of central Kyoto, and is located about 1.2 km northeast of Jingoji temple.
And this district is called Toganoo.
This temple is one of 17 constructions of "Historic Monuments of Ancient Kyoto" designated as a World Heritage Site.
It is said that this temple was founded by order of Emperor Konin in 774, but it is less certain.
It is thought that this temple was a branch one of Jingoji during the 9th to 12th centuries.
In 1206, Emperor Go-Toba gave priest Myoue this temple, then it is regarded as the substantive foundation of this temple.
Since the Middle Ages, the temple had been sometimes destroyed by fire or civil war.
Most buildings were rebuilt between the 17th to 19th centuries.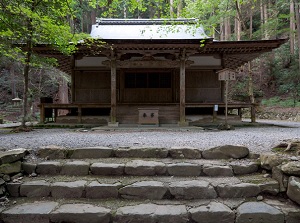 Kondou of Kozanji
Photo by inariage.com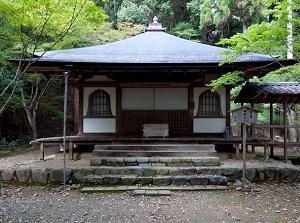 Kaizando of Kozanji
Photo by inariage.com
The precinct is on a slope of mountain.
There are two approaches from south and east.
South approach is the main approach (Omote-Sando) and east approach is another approach (Ura-Sando).
Route bus stop is near the entrance of Ura-sando, so it is convenient for visitors.
Kondo hall (金堂) is at the highest place in the precinct.
The building was moved from Ninnaji temple around 1634, and Shaka-Nyorai Buddhs statue is enshrined.
Kaizando (開山堂) is the temple rebuilt in 1723 on the place where priest Myoue died in 1232.
There is the seated statue of priest Myoue.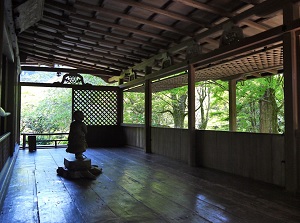 Hisashinoma in Sekisui-in
Photo by Kyoto Free Photo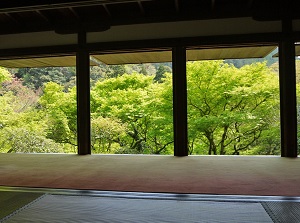 Southern scenery in Sekisui-in
Photo by Kyoto Free Photo
Sekisui-in temple (石水院) is at the lowest place in the precinct, and is only original building built in 1274.
It is also called Goshodo (五所堂), and is designated as a national treasure.
In the west part of Sekisui-in, there is a room with a board floor.
It is Hisashinoma (廂の間), and was originally a room of Shinto shrine.
A statue of child Buddha is put in the center of the room.
The south part of Sekisui-in is an observatory room, and we can see the garden and the scenery of mountains.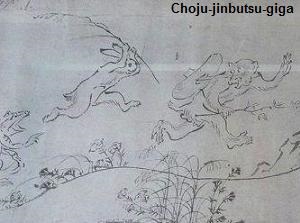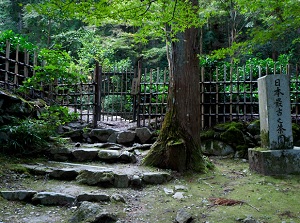 Japan's oldest tea plantation
Photo by inariage.com
Kozanji is known for housing many various paintings and books.
Most of them have been deposited in Tokyo National Museum and Kyoto National Museum.
The most popular article is Choju-jinbutsu-giga, and it is the humorous pictures of personified animals such as frogs, rabbits, monkeys.
They were created in the 12th and 13th centuries, and have been handed down in Kozanji.
It is considered that the pictures are the origin of Japanese manga and anime.
We can see the replica in this temple.
(The real pictures are in the above museums.)
By the Sekisui-in, there is Japan's oldest tea plantation.
In the late 12th century, priest Eisai (1141-1215), the founder of Rinzai Zen Buddhism, brought back the seeds of tea from Sung (current China).
Priest Myoue was presented the seeds from Eisai, and sowed them in the field.
Since that, the tea had been grown in Toganoo district, and this area became a major production area of tea.
Toganoo district around this temple is famous for the beautiful colored leaves along with nearby Takao district.
How to get here
By route bus (JR bus), about 52 minutes from Kyoto station to Yamashiro-Takao stop.
Other Tourist Attractions in Kyoto Prefecture