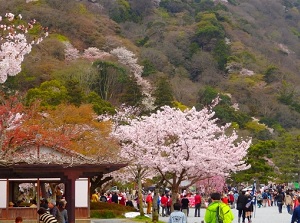 Arashiyama in spring

Arashiyama in autumn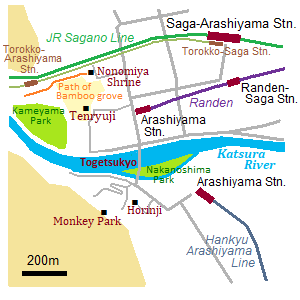 Arashiyama is a popular scenic area in the western suburbs of central Kyoto.
Katsura River flows from northwest to southeast, and the scenery of cherry blossoms in spring and maple leaves in autumn are very popular.
Formally, Arashiyama is the district on the right bank (the south side) of Katsura River.
But, it is commonly the area on the both sides of the river, and it generally includes the area south from JR Sagano Line.
And there is Arashiyama terminal station of Randen tram.
Randen runs around popular Kitano-tenmangu, Myoshinji, Ninnaji, Ryoanji, Koryuji, etc. in the western part of Kyoto city.
So, it is convenient to visit by Randen.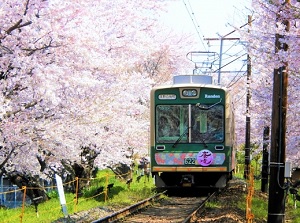 Randen tram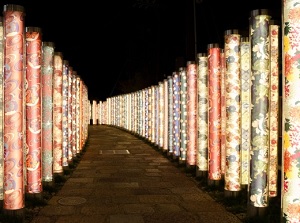 Kimono Forest in Arashiyama station
By the way, there is Kimono Forest in Arashiyama station of Randen since 2013.
600 poles decorated with Kyo-Yuzen dying for Kimono stand along the passageway.
They are colorful and beautiful, and are illuminated at night.
The north side of JR Sagano Line is generally Sagano area.
It is also popular area with Kyoto view.
Togetsukyô bridge (
渡月橋

)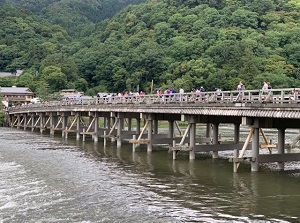 Togetsukyo bridge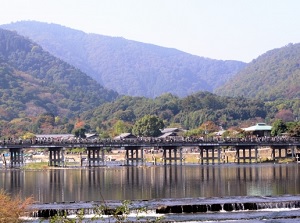 Togetsukyo in autumn
Togetsukyô is a bridge across Katsura River.
It is the symbol of Arashiyama, and is located about 180 meters south of Arashiyama station of Randen.
It is said that the original bridge was built by a priest in the 840s.
The current bridge was rebuilt in 1934.
The length is 155 meters and the width is 11 meters.
Cars can also cross this bridge.
The bridge piers and girders are made of reinforced concrete, but the other main parts are made of wood.
The view of cherry blossoms and colored leaves including Togetsukyo and Katsura River is very popular.
Tenryûji temple (
天龍寺

)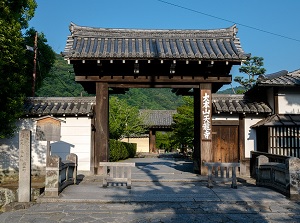 Somon gate of Tenryuji
Photo by inariage.com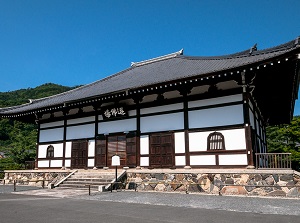 Hattou of Tenryuji
Photo by inariage.com
Tenryûji is a temple of Rinzai Zen Buddhism, one of the three Japanese Zen sects.
It is located about 300 meters west of Arashiyama station of Randen.
This temple is one of 17 constructions of "Historic Monuments of Ancient Kyoto" designated as a World Heritage Site.
There was Kameyamaden which was an Emperor's villa built in the 1250s in this site.
Ashikaga Takauji (1305-1358), a warlord and the 1st Shogun of Muromachi Government, changed this villa to the temple in 1345, to console the spirit of Emperor Go-Daigo who had been a political enemy of Takauji.
At that time, the whole of Arashiyama area was the temple grounds and it was about 9.5 square kilometers in area.
It is said that there were also about 150 branch temples in the site.
But the temple had been destroyed by fire time and time again.
So, the site of the temple had become small, and is about 400 meters from east to west and about 200 meters from north to south.
Chokushimon gate (勅使門) is the main gate and was built in the early 17th century.
And there is an approach about 250 meters and the main buildings are in the west end of the site.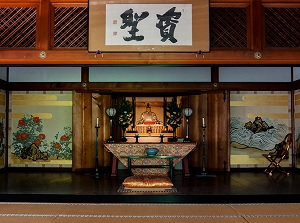 Inside of Tahouden in Tenryuji
Photo by inariage.com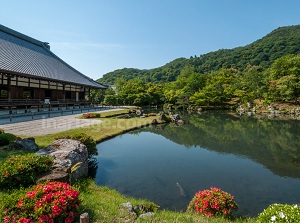 Sougenchi garden & Dai-Houjou
Photo by inariage.com
There are several buildings such as Hattou (法堂), Dai-Houjou (大方丈), Sho-HoujouSho-Houjou (小方丈), Tahouden (多宝殿) in the precincts.
Most of them were rebuilt in the early 20th century.
In 1997, an image of clouds and dragons was painted on the ceiling by Hattou to commemorate the temple's 650th anniversary.
It is opened to the public on Saturday, Sunday and Japanese national holiday.
The most attractive spot in this temple is the Japanese garden.
It was constructed in the early 14th century, and there is Sougenchi pond (曹源池) in the center of the garden.
It is designated as an extraordinary scenic beauty.
Nonomiya Shrine (
野宮神社

)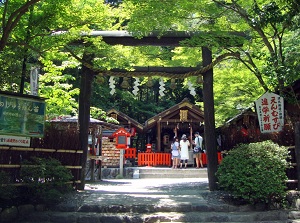 Nonomiya Shrine
Photo by Kyoto Free Photo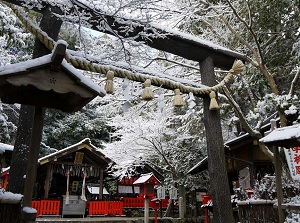 Nonomiya Shrine in winter
Photo by Kyoto Free Photo
Nonomiya Shrine is a small Shinto shrine located just north of Tenryuji.
In the 9th century, the selected unmarried princess purified herself to go for serving to Ise Shrine in this shrine.
Because it is an old shrine, the Torii gate is made of original woods.
Now, this shrine is famous for a god of match-making.
"Kameishi" in the precinct is a sacred stone.
If you touch the stone making a wish, your wish will come true.
Path of Bamboo grove (
竹林の小径

)

Path of Bamboo grove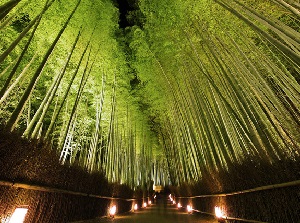 Path of Bamboo grove in Arashiyama Hanatouro
Photo by Kyoto Free Photo
From Nonomiya Shrine, a path through thick bamboo groves runs toward west.
It is called Chikurin no Komichi in Japanese.
The length is about 400 meters, and it is most popular path in Arashiyama area.
Because this path became very popular, it is crowded in weekend.
If you want to enjoy calm forest of bamboo in Kyoto, please visit in early morning on weekdays.
Hôrinji temple (
法輪寺

)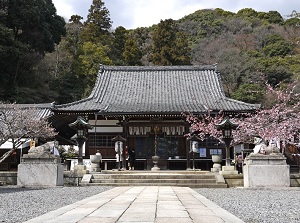 Horinji
Photo by Kyoto Free Photo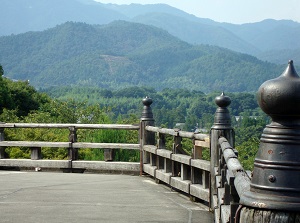 Observarory terrace in Horinji
Photo by Kyoto Free Photo
Hôrinji is a Buddhist temple of Shingon Buddhism, one of Japanese major Buddhism.
It is located on a mountainside to the south of Togetsukyo bridge.
It is said that the temple was founded in 713, and Kokûzô Bosatsu Buddha has been enshrined.
So this temple is affectionately called "Kokuzo-san in Saga".
The precinct is an observatory, so we can see the view of Arashiyama and the city of Kyoto from there.
And there is unique Dendengu Shrine (電電宮) near Horinji.
It is a guardian god of Horinji, and a god of thunder is enshrined.
So, the electrical companies worship this shrine.
Arashiyama Monkey Park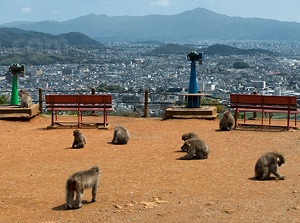 Arashiyama Monkey Park
Photo by inariage.com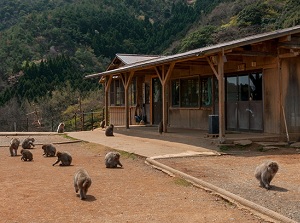 Feeding cage in Arashiyama Monkey Park
Photo by inariage.com
Arashiyama Monkey Park is located on a hill of Iwatayama to the west of Horinji.
It is also an observarory on a top of a hill, and over 100 wild monkeys live in the park.
We can feed the monkeys.
But, we must enter a cage and feed from inside the cage.
That is the rule in this park, so we can contact with the monkeys peacefully.
How to get here
By Randen tram (Kitano Line of Keifuku Electric Railway), about 22 minutes from Kitano-Hakubaicho to Arashiyama terminal station.
Other Tourist Attractions in Kyoto Prefecture