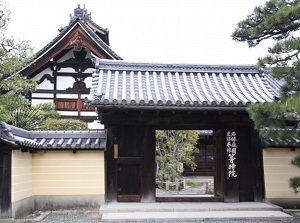 Main gate of Toji-in
Photo by Kyoto no Kaiun-Shashinkan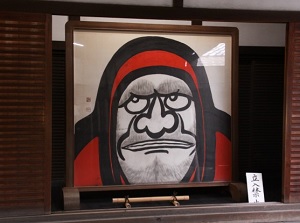 Picture of Daruma in Toji-in
Photo by Kyoto no Kaiun-Shashinkan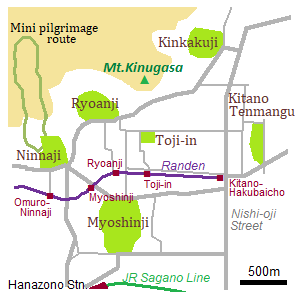 Toji-in is a Zen Buddhist temple located about 1.2 km southwest of Kinkakuji.
And Ryoanji is located about 0.6 km northwest of this temple.
"O" in the word is pronounced long, so it is read as "Tôji-in".
Toji-in was founded by Ashikaga Takauji (1305-1358) in 1341.
He was the founder of Muramachi government (1336-1573).
Since that, this temple became the family temple of Ashikaga family.
The main buildings in this temple are "Houjou" and "Reikouden".
Houjou (方丈) is the main hall.
It was moved from Myoshinji temple and rebuilt here in 1616.
Reikouden (霊光殿) has 13 wooden statues of successive Shoguns of Ashikaga family and a statue of Tokugawa Ieyasu, the founder of Edo government in 1603.
When we enter the first building of this temple, we see an attractive picture oF "Daruma".
Daruma was an Indian priest who was the founder of Zen Buddhism in China in the 6th century.
This picture was painted by a Japanese priest in the 20th century.

Houjou in Toji-in in Toji-in
Photo by Kyoto no Kaiun-Shashinkan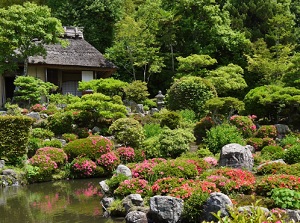 Seiren-tei & Fuyouchi in Toji-in
Photo by Kyoto Free Photo
This temple has a beautiful Japanese garden.
The site is not so wide, but there are two different gardens.
Both gardens are formed around the ponds.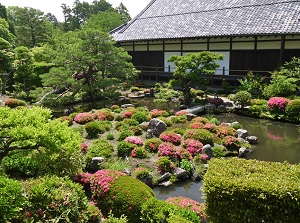 Houjou & Fuyouchi in Toji-in
Photo by Kyoto Free Photo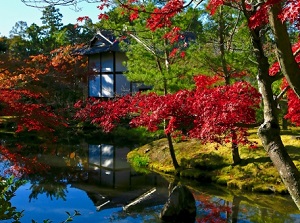 Shinji-ike in Toji-in
East garden is around Shinji-ike (心字池) and west garden is around Fuyouchi (芙蓉池).
By the gardens, there is a tea house Seiren-tei (清漣亭) built in 1457 and rebuilt in the i7th century.
How to get here
By Randen tram (Kitano Line of Keifuku Electric Railway), about 2 minutes from Kitano-Hakubaicho to Toji-in.
Then about 7 minutes walk from there.
Hotels in Kita Ward
Other Tourist Attractions in Kyoto Prefecture