Toei Kyoto Studio Park [
東映太秦映画村

]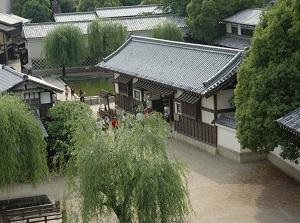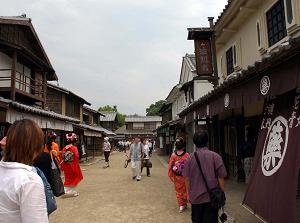 Toei Kyoto Studio Park is a theme park of Japanese movie.
It is located next to Koryuji temple, and about 1.5 km southwest of Myoshinji temple.
"O" in "Toei" is pronounced long, so it is read as "Tôei".
It is a Japanese film and television production and distribution corporation.
Two film production companies established in 1938 combined into Toei, then developed.
In Kyoto studio of Toei in Uzumasa district, many movies had been created but the creation of period movies had been decreasing.
To keep the Kyoto studio, this theme park was opened in 1975.
So this theme park is called Toei Uzumasa Eigamura in Japanese.
In the site, there is a film set of the town in the Edo Period (1603-1868).
Edo Period was feudal age but was a stabilized period.
People wore Kimono, men wore topknot, and women wore Japanese coiffure.
Samurai woreked as officer and police, and Ninja worked as spy.
Many historical dramas in this period have been created for cinema and TV.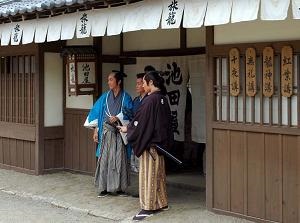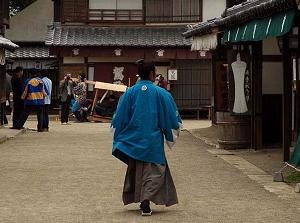 Of course, we can meet the actors and actresses wearing historical costume.
Ninja shows or swordfight shows by samurai are held every day.
And we can transform ourselves to samurai, ancient princess and the other historic person.
Toei creates the works of animation and Special effect.
There are the attractions of such works.
How to get here
By Randen tram (Kitano Line of Keifuku Electric Railway), about 12 minutes from Kitano-Hakubaicho to Uzumasa-Koryuji.
Then about 5 minutes walk from there.
Hotels around Nakagyo Ward
Other Tourist Attractions in Kyoto Prefecture