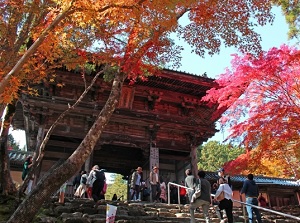 Roumon gate of Jingoji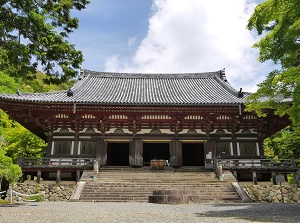 Kondou in Jingoji
Photo by Kyoto Free Photo
Jingoji is a temple of Shingon Buddhism which is one of major Japanese Buddhism.
It is in the mountain located about 15 km northwest of central Kyoto, and is about 5 km north of Arashiyama district.
The original temple was built in the late 8th century.
High priest Kuukai (774-835), the founder of Shingon Buddhism, was lived in the temple for a period of time before he founded Kongobuji temple in Koyasan (Mount Koya).
And, high priest Saicho (767-822), the founder of Tendai Buddhism, also lectured in this temple.
Therefore, Jingoji has been an important temple in the history of Japanese Buddhism.
Since 824, this temple had been protected by the government.
Formally, it is regarded as the foundation year of this temple.
There is Mount Takao (428 m) and Kiyotaki River forms a gorge.
Jingoji is on the mountainside of Mount Takao.
To visit the temple, we walk up along the long and steep approach.
The length is about 400 meters from the foot of the mountain.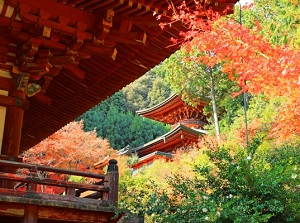 Tahoutou pagoda of Jingoji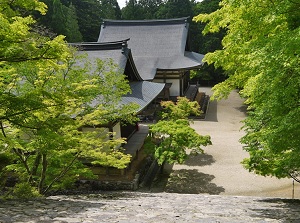 Godaido and Bishamondo in Jingoji
Photo by Kyoto Free Photo
In the precinct, there are several buildings.
Roumon gate (楼門) is the entrance of the temple, and was built in 1623.
Kondo hall (金堂) is the central building, and Tahoutou (多宝塔, two-story pagoda) is behind Kondo.
These were built in 1934, but some Buddha statues designated as national treasures are enshrined in these building.
And there are Bishamondo temple (毘沙門堂), Godaido temple (五大堂) and Shoro (鐘楼, Bell tower) in the precinct.
These were rebuilt in 1623.
The temple bell is set up in Shoro.
It was created in 875 and is designated as national treasure, but it is not open to the public.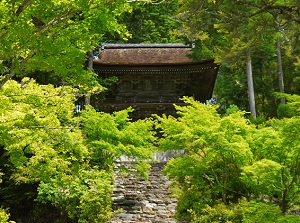 Shoro in Jingoji
Photo by Kyoto Free Photo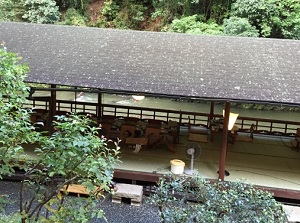 Kawadoko in Takao
If you want to avoid your bad luck, play Kawarake-nage at the observatory in Jingoji.
You buy a small unglazed clay plate, then throw it toward the gorge.
You will become happy.
Takao district around Jingoji is famous for the beautiful colored leaves in Japan.
The best season is November.
And, in summer, open terraces along the riverside of Kiyotaki River are set up as outdoor restaurant.
It is called Kawadoko, and is a common feature of Takao in the summer time.
How to get here
By route bus (Kyoto municipal bus), about 50 minutes from Shijo-Karasuma to Takao terminal stop.
Shijo-Karasuma has the stations of subway and Hankyu Railway.
Or, by route bus (JR bus), about 47 minutes from Kyoto station to Yamashiro-Takao stop.
Hotels in Kyoto city
Other Tourist Attractions in Kyoto Prefecture