Moss temple (Saihoji) [
苔寺 (西芳寺)

]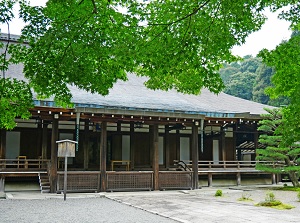 Main temple of Saihoji
Photo by Kyoto Free Photo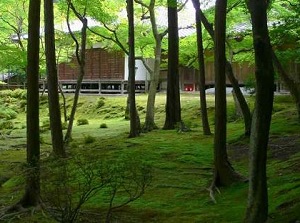 Garden in Saihoji
Saihoji is a temple of Rinzai Zen Buddhism.
"O" in the word is pronounced long, so it is read as "Saihôji".
The temple is located at the foot of the mountains in the western suburbs of central Kyoto.
It is located about 8 km west of Kyoto station, and about 3 km south of Arashiyama area.
This temple is one of 17 constructions of "Historic Monuments of Ancient Kyoto" designated as a World Heritage Site.
It is said that this temple was founded by high priest Gyoki (668-749) in the 730s or 740s, but it is less certain.
The temple had fallen into ruin, but high priest Muso Soseki (1275-1351) rebuilt this temple in 1339.
He was also an excellent planner of garden, then he created a good Japanese garden in this temple.
This temple had been destroyed by fire by the civil war in 1467, but the buildings were rebuilt in the 16th to 17th centuries.
Most of current buildings were rebuilt in the 20th century.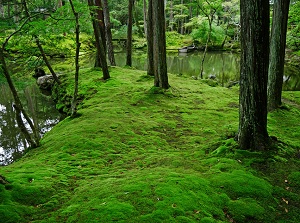 Ougonchi in Saihoji
Photo by Kyoto Free Photo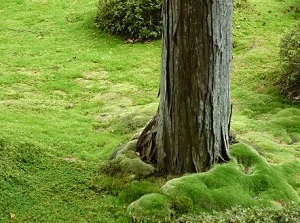 Mosses in Saihoji
After all, the feature of this temple is the moss-covered Japanese garden created by Muso Soseki.
It is designated as a national extraordinary scenic beauty.
So this temple is well-known as Moss temple ("Koke-dera" in Japanese) rather than "Saihoji".
Originally no moss was on the ground.
When the temple had fallen into ruin in the 19th century, it is thought that the mosses have continued to grow in the moderate temperature and humidity.
There is a pond named Ougonchi (黄金池) in the site, and the whole grounds around the pond are covered with mosses completely.
A tea house Shônantei (湘南亭) is by the pond.
It is said that it was built in the period of Muso Soseki, and is designated as an important cultural property.
It is very difficult to enter this temple.
To visit this temple, we must make a reservation by postcard.
And the postcard must reach the temple more than a month before visiting.
If you want to visit Saihoji, check the official site.
How to get here
By route bus (Kyoto Bus), about 1 hour from Kyoto station to Kokedera-Suzumushidera terminal stop.
Or, by Hankyu Arashiyama Line, get off at Kami-Katsura station.
Then about 25 minutes walk from there. (About 1.5 km)
Hotels in Kyoto city
Other Tourist Attractions in Kyoto Prefecture