Bell cricket temple (Suzumushi-dera) [
鈴虫寺

]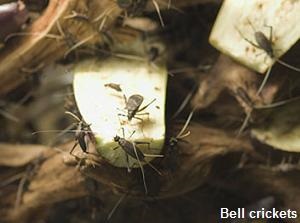 Bell cricket temple is a small temple of Rinzai Zen Buddhism founded in 1723.
It is located just north of Saihoji (Moss temple)
In Japanese, it is called Suzumushi-dera and the formal name is Kegonji (華厳寺).
Bell cricket ("Suzumushi" in Japanese) is a kind of insects, and lives mainly in Japan.
Bell cricket comes out in early summer and dies in late autumn.
It acts in the grass, and it sounds like small bell with using its wings in the quiet autumn night.
By hearing the sound of insects in the field, Japanese people feel autumn.
Especially, the sound of bell cricket has been loved by Japanese people.
(I hear that Western people feel like the sound is noisy...)
This temple raises thousands of bell crickets as the attraction for the visitor.
As above, bell crickets live from summer to autumn.
But, this temple succeeded in incubation of bell cricket in all seasons.
So, we can hear the gentle sound in this temple all through the year.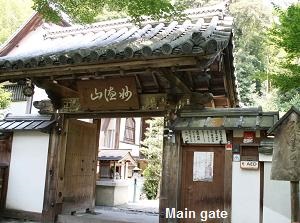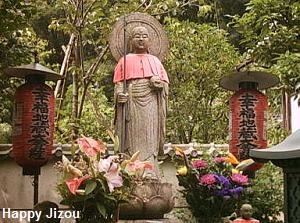 Bell cricket is not the only feature of this temple.
The head priest provides tea and sweets for visitors, and gives a humorous preach in the hall. (Of course, the preach is in Japanese.)
In the temple, there is a stone guardian deity named Kofuku Jizou (幸福地蔵, Happy Jizou in English).
It is the deity wearing straw sandals, and such deity is only one in Japan.
Because the deity can walk by the sandals, he will grant your wish at your place.
But you must select only one of your wishes.
And how to worship is taught in the preach of the priest.
In Japan, such temple entertaining tourists in a positive way is unique.
So, many tourists visit here.
When too many visitors have come, the preach is done by 200 visitors.
Overflow visitors must wait until the preach is over. (About half an hour)
There is often a long queue of visitors on the approach.
(It is relatively uncrowded on weekdays.)
How to get here
By route bus (Kyoto Bus), about 1 hour from Kyoto station to Kokedera-Suzumushidera terminal stop.
Or, by Hankyu Arashiyama Line, get off at Kami-Katsura station.
Then about 25 minutes walk from there. (About 1.5 km)
Hotels in Kyoto city
Other Tourist Attractions in Kyoto Prefecture