Nankinmachi Chinatown [
南京町

]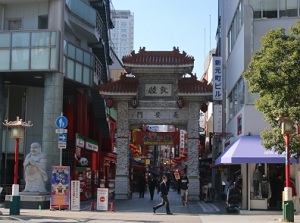 Choanmon (East gate) of Nankinmachi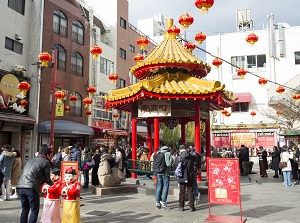 Central square in Nankinmachi
© KOBE TOURISM BUREAU
Nankinmachi is the Chinatown in Kobe.
It is located to the west of Kyu-kyoryuchi, and is just the south of JR Motomachi station.
It is one of the three major Chinatowns in Japan, along with Yokohama and Nagasaki.
The area is about 200 meters from east to west and about 100 meters from north to south in width.
The main street runs from east to west, and there is a square at the center of the town.
In this town, there are about 100 restaurants and shops.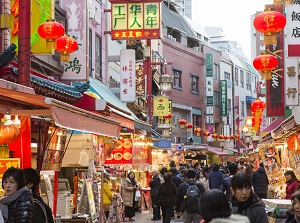 A street in Nankinmachi
© KOBE TOURISM BUREAU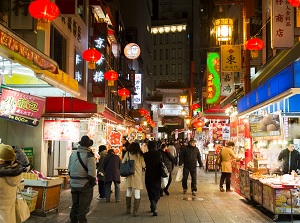 Nankinmachi in the evening
© KOBE TOURISM BUREAU
When Kobe Port was opened as an international port in 1868 after long national isolation, the foreign settlement was constructed, and it became the current Kyu-kyoryuchi area.
But Chinese people were not allowed to live there, so they lived in this western area of Kyu-kyoryuchi.
The area became current Nankinmachi.
Nankinmachi is a major Chinatown in Japan, but it is more compact than Yokohama Chinatown.
Yokohama Chinatown has both the shops and dwelling houses.
In contrast, Nankinmachi has the shops but most owners of them live in the other area.
How to get here
Get off at Motomachi station of JR, Hankyu, and Hanshin Lines.
About 5 minutes from the station.
Hotels around Nankinmachi
Other Tourist Attractions in Hyogo Prefecture
Kobe city
Other areas in Hyogo Prefecture