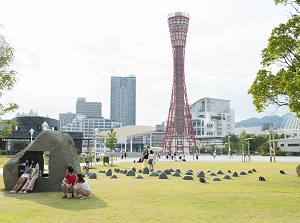 Meriken Park
© KOBE TOURISM BUREAU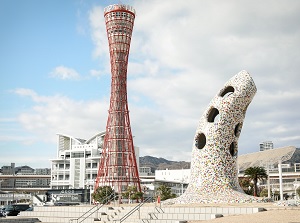 Kobe Port Tower & symbol monument of
Meriken Park, © KOBE TOURISM BUREAU
Meriken Park is a park facing Kobe Port.
It is located about 0.8 km south of JR Motomachi station.
Nankinmachi is about 0.6 km to the north, and Kyu-kyoryuchi is about 0.3 km to the northeast.
The east side of the park faces the sea.
It was originally "Meriken Wharf".
The wharf was constructed by Japan government in 1868, after opening the port for foreign countries.
At that time, there was the US Consulate General near this wharf.
When Japanese people listened to their English for the first time, the word "American" sounded like "Meriken" to Japanese people.
So this wharf was named as "Meriken Hatoba" in Japanese. ("Hatoba" means "wharf".)
In 1963, Kobe Port Tower was built on the pier about 300 meters west of Meriken Wharf.
It is an observation tower for tourists, and the height is 108 meters.
We can enjoy the view of Kobe Port and Kobe city.
In the 1980s, the sea between Meriken Wharf and the pier with Kobe Port Tower were landfilled, and Meriken Park was constructed on the land in 1987.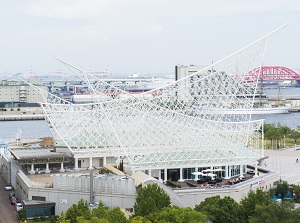 Kobe Maritime Museum
© KOBE TOURISM BUREAU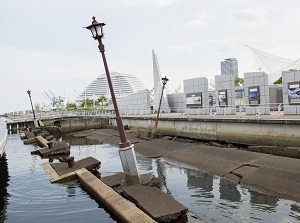 Port of Kobe Earthquake Memorial Park
© KOBE TOURISM BUREAU
Meriken Wharf and Kobe Port Tower are in the park, of course.
And Kobe Maritime Museum and a few hotels were newly built on the park.
Kobe Maritime Museum is a museum focusing on the history of Japanese shipping and Kobe harbor.
And, in this museum, there is a section of "Kawasaki Good Times World".
It is the corporate museum of Kawasaki Heavy Industries producing motorcycles, railcars, ships, helicopters and the other various machines.
The company was established in Kobe in 1896.
The Great Hanshin-Awaji Earthquake struck Kobe and the surrounding area in 1995.
At that time, the historical Meriken Wharf was also destroyed.
The destroyed wharf has been preserved to memorize the earthquake disaster.
And it became Port of Kobe Earthquake Memorial Park in 1997.
Several sightseeing ships touring around Kobe Port leave from this park.
The pier is to the west of Kobe Port Tower
How to get here
Get off at Motomachi station of JR, Hankyu, and Hanshin Lines.
About 15 minutes from the station.
Hotels around Merike Park
Other Tourist Attractions in Hyogo Prefecture
Kobe city
Other areas in Hyogo Prefecture