Akashi-Kaikyo Bridge [
明石海峡大橋

]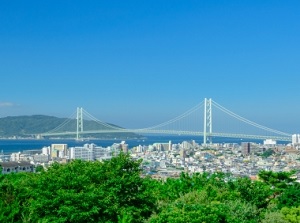 Akashi-Kaikyo Bridge & Awaji Island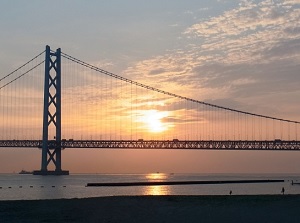 Sunset at Akashi-Kaikyo Bridge
Akashi-Kaikyo Bridge is a suspension bridge for cars.
It is located about 18 km west of central Kobe city.
The position is near the west end of Kobe city, and is located about 5 km east of central Akashi city.
It is over Akashi Channel ("Akashi-kaikyo" in Japanese) between the main land and Awaji Island.
This bridge was completed in 1998.
The total length is 3,911 meters.
The distance between two suspension bridge towers is 1,991 meters.
As a suspension bridge, both are the longest lengths in the world.
The height of the suspension bridge towers is about 298 meters.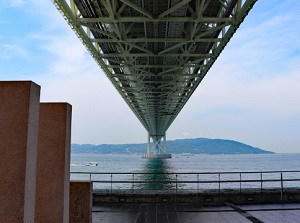 Under Akashi-Kaikyo Bridge

Akashi-Kaikyo Bridge in the evening
The original plan was to construct the bridge with the length of 3,910 meters.
But the Great Hanshin-Awaji Earthquake occured in 1995 during construction.
The epicenter was right below this bridge.
The earthquake moved the grounds around this area, then the length between the main land and Awaji Island had gotten about 1 meter longer.
The road on this bridge is Kobe-Awaji-Naruto Expressway.
It is the main route connecting Kansai Region and Shikoku Island.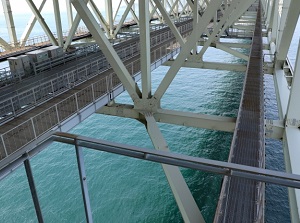 Maiko Kaijo Promenade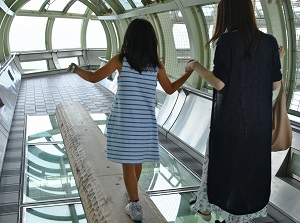 Maiko Kaijo Promenade
There is Maiko Park (舞子公園) to see the bridge, Akashi Channel and Awaji Island along the coast.
There is Maiko Kaijo Promenade (舞子海上プロムナード) under the bridge.
It is the walk way with observatory setting up 47 meters above the sea.
We can visit the position over the sea about 150 meters off the coast.
Near the bridge, there is Bridge Exhibition Center (橋の科学館).
It introduces the technology of construction of huge bridge.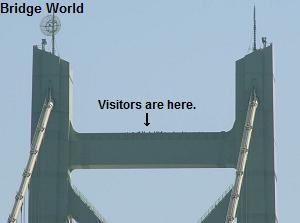 A guided tour Bridge World is held on Thursday, Friday, Saturday, Sunday and Japanese national holiday.
The tour members can climb the top of the suspension bridge tower.
Advanced reservations are required.
It is held at 9:30 and 13:30, and it takes about 2.5 hours.
How to get here
By JR Kobe Line, get off at Maiko station of JR Kobe Line.
By local train, about 20 minutes from Sannomiya.
Or, by San-yo Dentetsu railway, get off at Maiko-koen station.
By limited express, about 21 minutes from Kosoku-Kobe.
Other Tourist Attractions in Hyogo Prefecture
Kobe city
Other areas in Hyogo Prefecture