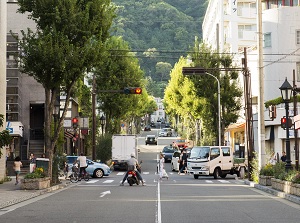 Kitanozaka
© KOBE TOURISM BUREAU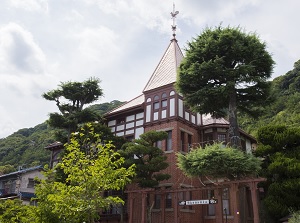 Kazamidori-no-Yakata in Kitano
© KOBE TOURISM BUREAU
Kitano is a district on the elevated area at the foot of Rokko mountains.
It is located about 1 km northwest of Sannomiya station.
Many Western-style residences were built in this district from the 1890s to the 1930s.
This district is one of the most popular spots in Kobe.
In Japanese, these residences are called Kitano-ijinkan (北野異人館) collectively.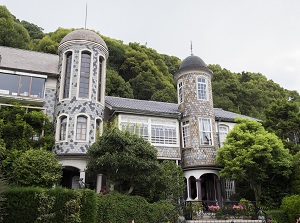 Uroko-no-Ie in Kitano
© KOBE TOURISM BUREAU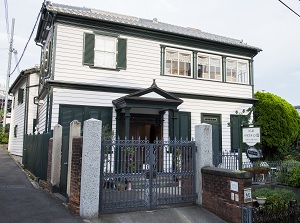 Parastain House in Kitano
© KOBE TOURISM BUREAU
When Kobe port was opened as an international port in 1868 after long national isolation, the foreign settlement was constructed near Kobe Port.
It is the current Kyu-kyoruchi area.
But it had taken time to construct the settlement, so many foreigners built their residences in the other places.
Some of them were built in Kitano district.
In 1945 during World War II, the main area in Kobe was destroyed by air raids, but Kitano district wasn't attacked because of the foreigner's resident area.
Therefore, most of the original residences remain here.
The formal town names in this area are Kitano-cho and Yamamoto-dori.
The area is about 800 meters from east to west and about 400 meters from south to west in width.
A total of 34 old Western-style residences are designated as important traditional buildings.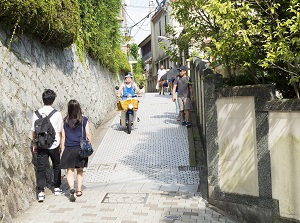 An alley in Kitano district
© KOBE TOURISM BUREAU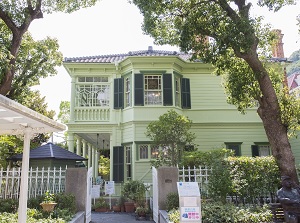 Moegi-no-Yakata in Kitano
© KOBE TOURISM BUREAU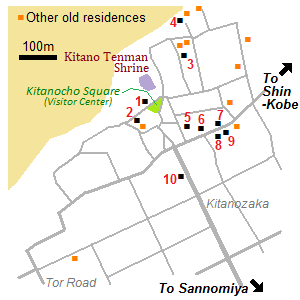 From the north of Sannomiya station to Kitano district, there is a slope street about 0.5 km long.
It is called Kitanozaka (北野坂).
It is the main street to Kitano district
And, there is a road between Kitano and Kyu-kyoryuchi, and is called Tor Road.
Main old buildings in Kitano district are the following.
The position is in the map.
Each number of the following corresponds to the number in the map.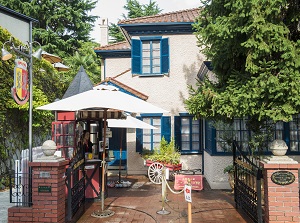 Oranda-kan in Kitano
© KOBE TOURISM BUREAU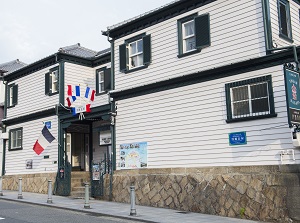 France-kan in Kitano
© KOBE TOURISM BUREAU
Kazamidori-no-Yakata (

風見鶏の館

)
Former Thomas House (1909).
The owner was Gottfried Thomas, a German trading merchant.
"Kazamidori" means "weathercock", and the residence has a weathercock on the steepletop.
This is the most famous residence in Kitano area, and is designated as a national important cultural property.
Moegi-no-Yakata (

萌黄の館

)
Former Sharp House (1903).
The owner was Hunter Sharp, US Consul-General.
"Moegi" means "yellow-green".
Oranda-kan (

オランダ館

)
Former Wolhin's House (1920s).
It had been used as Holland Consulate General for a long period of time.
"Oranda" means "Holland" (the Netherlands).
Uroko-no-Ie (

うろこの家

)
Former rented house for foreigner (1905).
"Uroko" means "fish scale", and the walls of the house look like fish scales.
Uroko Museum is next to the house, and has many paintings by well-known European painters.
Parastain House (

パラスティン邸

)
The resident of a Russian trading merchant (1914).
The first floor is a cafe.
Former Panama Consulate (

旧パナマ領事館

)
Former Hilton House (the 1910s?).
It was used as Panama Consulate after World War II.
Now, it becomes a unique trick art museum.
Line-no-Yakata (

ラインの館

)
Former Drewell House (1915).
The nickname was chosen from among the public in 1978.
Exactly, we can see many "lines" on the walls.
Eikoku-kan (

英国館

)
The residence of the British (1909).
"Eikoku" means "British".
There is a gorgeous bar in the residence.
France-kan (

仏蘭西館

)
The rented house built in Kyu-kyoryuchi in 1908.
Later, it was moved to here.
The interior design is French style.
Kitano-monogatari-kan (

北野物語館

)
Originally it was the residence built in 1907.
It was destroyed by the Great Hanshin Earthquake in 1995, and this house was rebuilt with following the original house.
The first floor is a cafe of Starbucks now.
How to get here
About 10 minutes from Shin-Kobe station of Shinkansen and subway.
Or, about 15 minutes walk from Sannomiya station of JR, Hankyu and Hanshin railways.
Other Tourist Attractions in Hyogo Prefecture
Kobe city
Other areas in Hyogo Prefecture