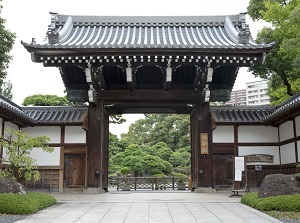 Entrance gate of Sorakuen
© KOBE TOURISM BUREAU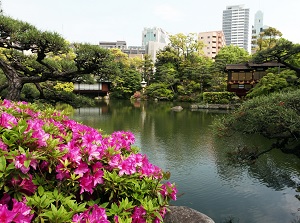 Japanese garden of Sorakuen
© KOBE TOURISM BUREAU
Sorakuen is a beautiful Japanese garden located about 0.6 km northwest of JR Motomachi station.
"O" in the word is pronounced long, so it is read as "Sôrauen".
This place was constructed as the garden in the residence of Kodera Taijiro (1836-1904) who was a successful businessman.
The construction started around 1885, but the completion was in 1911.
The residence is about 150 meters square, and the garden has an area of 20,000 square meters.
It is a traditional Japanese garden, but it has a space with lawn influenced by Western garden.
The residence was transferred to Kobe city in 1941, then it was opened to the public.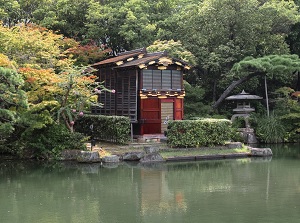 Funayakata in Sorakuen
© KOBE TOURISM BUREAU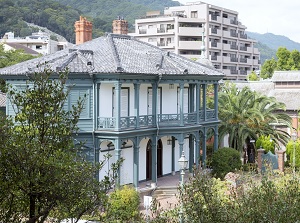 Former Hassam House in Sorakuen
© KOBE TOURISM BUREAU
In the site, there are some buildings designated as national important cultural properties.
Funayakata (船屋形) is a cabin of the pleasure boat for the lord of Himeji Castle.
It is supposed that the boat was created around the end of 17th century and only the gorgeous cabin was moved to this garden for preservation in 1980.
Former Kodera Stable (旧小寺家厩舎) was built around 1910.
It was constructed to use horse-drawn carriage for Kodera family.
Former Hassam House (旧ハッサム住宅) was the house built in Kitano district in the elevated area in Kobe in 1902.
Mr.Hassam was an Indo-Brirish trading merchant.
It was moved to this residence in 1963.
How to get here
Get off at Motomachi station of JR or Hanshin Railway.
About 10 minutes from the station.
Or, get off at Kencho-mae station of subway Seishin-Yamate Line.
About 3 minutes from the station.
Other Tourist Attractions in Hyogo Prefecture
Kobe city
Other areas in Hyogo Prefecture