Matsue city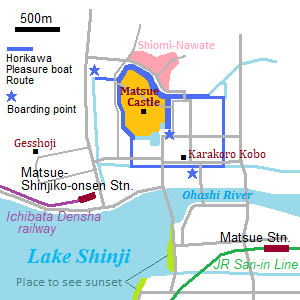 Matsue is the prefectural capital in Shimane Prefecture, and is located at the norteast part of the prefecture.
There is Lake Shinji to the west of central Matsue. Oohashi River flows from the lake through the city to the east, and it flows into Lake Nakaumi.
In the early 17th century, Matsue Castle was built, then this city has developed as the castle town.
Many old buildings in the Edo Period (1603-1868) remain in the city, so we can enjoy the old castle town.
Patrick Lafcadio Hearn (1850-1904) was an Irish writer, and he was invited in Matsue as an English teacher in 1890.
He was attracted the scene in Matsue, then he was fascinated with Japanese culture.
And he married a samurai's daughter. After that, he was moved around a few cities in Japan as a teacher.
At last, he became a naturalized Japanese in 1896 in Tokyo, then he take a Japanese name "Koizumi Yakumo"
"Koizumi" was his wife's family name, and "Yakumo" was the first name.
"Yakumo" is the word symbolizing eastern Shimane Prefecture such as Matsue and Izumo.
He introduced Japan to Western countries by a lot of his English literary works.
He lived in Matsue for only 15 months, but he loved Matsue to death.
Matsue city has been thinking that Mr.Hearn was the great benefactor of the city.
The main sightseeing spots are 1-2 km away from JR Matsue station.
Therefore, it is convenient to use "Lakeline Bus".
It is a route bus for sightseeing. It starts Matsue station and runs around the main area.
Visit Matsue : Matsue Tourism Association official website
Matsue Castle /1/
It is a castle located in the center of Matsu city, and was built in 1611.
It is one of the 12 castles that original castle tower remains, and another name is Chidori-jo (Plover Castle).
Thmeters high is dese castle tower 30 ignated as a national important cultural property.
The site is roughly oval, and it is about 400 meters from east to west and about 700 meters from north to south in width.
And it is surrounded by a moat.
This castle has a legend.
During this castle was constructed, the base of the castle tower wasn't able to be completed simply.
So a few beautiful girls were abuducted secretly, and they were buried alive as victim.
Then the castle was completed perfectly.
But the lord of the castle and his son died suddenly. And the samurais in the castles heard the sobs from somewhere.
People thought that was the curse of the girls.
When new lord came, a female ghost appered in front of him. She said to him with a ferocious look, "This castle is ours!".
He listened to her, then he made an offering to them in the castle.
Since that, the ghost had never appered.
Shiomi-Nawate district /2/
It is a district along the north part of the moat surrounding Matsue Castle.
It was a samurai town, so there are several old samurai residences in this district.
When we walk along the street along the moat of the castle, we may get lulled into the illusion that we are in the middle ages.
Former Lafcadio Hearn's Residence /3/
It is a residence where Yakumo Koizumi (Lafcadio Hearn) lived from May to November in 1891, and is located at the northwest end of Shiomi-Nawate district.
It was originally a samurai residence, and has a Japanese garden. .
Lafcadio Hearn Memorial Museum /4/
It is a Museum about Yakumo Koizumi, and is located next to Former Lafcadio Hearn's Residence.
It was opened in 1934, and Yakumo's belongings, manuscripts, books and many other articles are displayed.
Bukeyashiki (Samurai Residence) /5/
It is a samurai residence built in the middle of the 18th century, and is located roughly in the center of Shiomi-Nawate district.
Now it is a museum about samurai, and samurai's weapons, cloths and daily goods are displayed.
Meimei-an teahouse /6/
It is an old teahouse built by the lord of Matsue Clan in 1779, and is in Shiomi-Nawate district.
It was moved to Tokyo and was there for a long time. But it was returned to Matsue in 1928 and was moved to here in 1966.
It is on a hill overlooking Matsue Castle.
Gesshoji temple /7/
It is a Buddhist temple of Jodoshu (Pure Land Buddhism), and is located about 1 km west-southwest of Matsue Castle.
It was founded in 1664, and became the family temple of Matsue Clan (Matsudaira Family).
This temple has many hydrangeas.
Karakoro Art Studio /8/
It is a facility with some art studios opened in 2000, and is located about 0.5 km south of Matsue Castle.
The building is former Bank of Japan Matsue Branch opened in 1918.
Horikawa Pleasure Boat /9/
There are the moats around Matsue castle, and the pleasure boat for enjoying the scenery on the moats is operated.
There are three boarding points, and the boat returns to the point where you come on board.
The length of each route is 3.7 km, and it takes about 50 minutes.
Horikawa Pleasure Boat official website
Scenic or Nature /
Park or Garden /
Resort /
City, Town or Village /
Quarter or Street /
Temple or Shrine /
Museum or Laboratory /
Market or Commercial facility /
Factory /
Other Building or Construction /
Historic place /
Remains /
World Heritage Site
How to get to here
By railroad
From Okayama, by JR limited express "Yakumo", about 2 hours and 30 minutes.
From Tottori, by JR limited express "Oki", about 1 hours and 30 minutes.
By airplane
From Izumo Airport, about 30 minutes by route bus.
From Yonago Airport, about 45 minutes by route bus.
---
---
---
Copyright ©
travel-around-japan.com
. All Rights Reserved.