Nippon Budokan arena [
日本武道館

]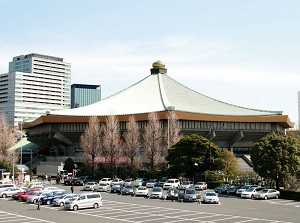 Nippon Budokan is an arena for Japanese traditional martial arts.
It is located in Kitanomaru Park on the north side of Imperial Palace (Kôkyo).
In Japanese, "o" in the word "Budokan" is pronounced long and it is read as "Budôkan".
And, we sometimes call it simply "Budôkan".
It was opened as the arena for judo in Tokyo Olympic Games in 1964.
(That was the first games that judo became an official event.)
The building is an octagon shape.
It has over 11,000 seats and can hold a maximum of about 14,400 people.
It is usually used for Japanese martial arts such as judo, kendo (Japanese fencing), karate, kyudo (Japanese archery), etc.
It is also used as the arena for dance, marching band and baton twirling.
Additionally the matches of professional boxing, professional wrestling and mixed martial arts are sometimes held here.
On August 15th every year, a memorial service for the war dead from the World War II is held here with the Emperor and Prime Minister in attendance.
Here is sometimes used as a special big concert hall.
The first popular artist who had a concert here was the Beetles in 1966.
Since then, many big artists such as Led Zeppelin (1971), Deep Purple (1972), Carpenters (1972), Eric Clapton (1974), Queen (1975), Bob Dylan (1978) the Rolling Stones (2003)... had the first their concerts in Japan in Nippon Budokan.
How to get here
Nearest stations of subway.
Kudanshita (●T07 Tozai Line, ●Z06 Hanzomon Line, ●S05 Shinjuku Line)
Hotels around Hanzomon station
Other Tourist Attractions in Tokyo Metropolis (Special Wards)