Tokyo Disney Resort (Tokyo Disneyland & Tokyo DisneySea)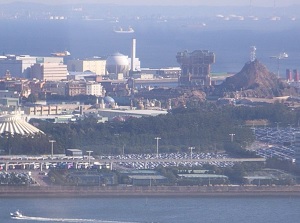 Tokyo Disney Resort

Tokyo DisneySea in the evening
Tokyo Disney Resort is the resort complex with two popular theme parks, Tokyo Disneyland and Tokyo DisneySea.
In addition to these theme parks, it has the shopping mall Ikspiari, the official Disney goods specialty shop Bon Voyage!, and some large resort hotels.
It is on the coast at the northern end of Tokyo Bay.
It is in Urayasu city in Chiba Prefecture, but is located only about 12 km east-southeast of Tokyo station.
In 1983, "Tokyo Disneyland" was opened as the amusement park of Disney characters such as Mickey Mouse.
It was the world's first Disneyland out of the United States.
After that, the Walt Disney Company proposed the conception of resort complex, then some hotels had been built around the Disneyland since 1986.
In 2001, Tokyo DisneySea was opened as an amusement park based on water and sea, and here is developing now.
The Great East Japan earthquake on March 11, 2011 caused violent quakes and huge tsunami, and Tokyo Disney Resort also received extremely big quakes.
At that time, over 70,000 visitors were in this resort.
All staffs of this resort led the visitors steadily and safely.
The disaster response was highly praised in the world.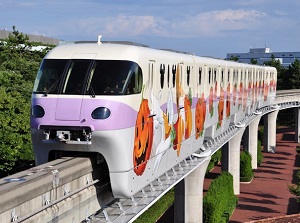 Disney Resort Line
Photo by Railstation.net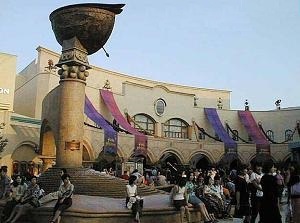 Ikspiari
Every year, over 30 million people visit here.
(Number of average daily visitors is more than 80,000.)
The nearest station is Maihama of JR Keiyo Line, and the main gate is in front of the station.
The area has the width both about 1.5 km from east to west and from north to south.
And Disney Resort Line, a monorail, runs around the area.
How to get here
By JR train
From Tokyo station to Maihama station, about 12 minutes by rapid train, about 16 to 19 minutes by local train of JR Keiyo Line
By Bus
From some stations in Kanto region, the buses to here run directly.
About 1 hour from Shinjuku station and Yokohama station.
And about 1 hour from Narita Airport, about 50 minutes from Haneda Airport.
From Osaka, Kyoto, Kobe, Nara, Nagoya in western Japan, the long-distance night buses run directly every night.
For example, the bus from Kyoto departs Kyoto station at 23:00, then it arrives here around 7:30.
Hotels around Tokyo Disney Resort
Other Tourist Attractions in Chiba Prefecture