Shoso-in treasure house [
正倉院

]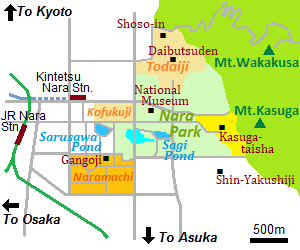 Shoso-in is a wooden treasure house, and is located about 300 meters north of Daibutsuden of Todaiji.
Both "o"s in the word are pronounced long, so it is read as "Shôsô-in".
This is one of 9 constructions of "Historic Monuments of Ancient Nara" designated as a World Heritage Site.
Originally, this building was a warehouse of Todaiji, and it is said that it was built around 756.
The most distinctive feature of Shoso-in is the special structure called "Azekura".
The body of the building is constructed by combination of triangular wooden bars, and it is like a log house.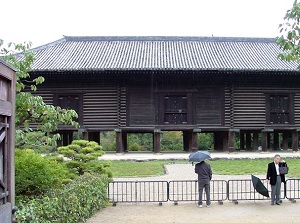 Shoso-in, Photo by Railstation.net
The width is about 33 meters, the depth is about 9.4 meters, and the height is about 14 meters.
And the floor is elevated about 2.7 meters above the ground.
There are three rooms in the building.
In 756, Emperor Shomu who built Todaiji was dead.
His wife, Empress Komyo, housed hundreds of her husband's belongings and collections in this warehouse.
And later, many treasures of Todaiji were also housed.
The treasures include not only Japanese craftworks and documents but also many valuable artifacts from ancient China, Central Asia and Persia.
So it is sometimes said that here is the eastern end point of Silk Road.
The total number of the treasures is over 9,000.
They are furniture, ornaments, swords, pictures, musical instruments, documents, etc.
Needless to say, most of them were created around the 8th century.
The structure of "Azekura" had kept good condition of temperature and humidity inside the building for over 1,200 years.
All treasures were moved into new two warehouses with the devices to control temperature and humidity in 1963.
Shoso-in has been managed by Imperial Household Agency.
The building is designated as a National Treasure.
The external viewing of the building is allowed, but we are not allowed to approach.
The treasures have been closed to the public.
But a few dozen of them are exhibited at Nara National Museum for only a few weeks in autumn every year.
How to get here
About 5 minutes walk from Daibutsuden of Todaiji.
Hotels in Nara city
Other Tourist Attractions in Nara Prefecture
Around Nara city
Spots in Nara Basin
Other area in Nara Prefecture