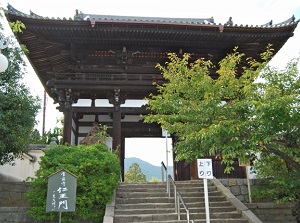 Niomon of Taimadera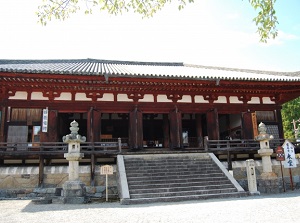 Mandara-do of Taimadera
Taimadera is a Buddhist temple of both Shingon school and Jodo school, and is located in Katsuragi city.
It is located about 30 km southwest of Nara city, and is around the southwest end of Nara Basin.
The kanji characters (Chinese character) of this temple name are above.
The first character is the old form, and the word is also written using current common form as "当麻寺".
This temple was founded by Prince Maroko in 612.
Prince Maroko was a brother of Prince Shotoku (574-622) who he took the reins of government and built Horyuji temple.
The temple was built in the south part of current Osaka Prefecture, first.
Then it was moved to this place by Taima Clan, the powerful family in this area, in 681.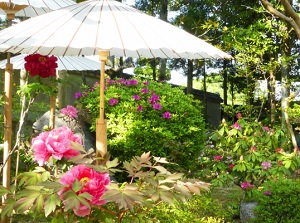 Peony in Taimadera

East pagoda of Taimadera
Fujiwara Toyonari (704-766) was a minister in the capital Nara, and has a pretty daughter named Chûjôhime.
When Chûjôhime was five years old, her mother was died.
Then Toyonari got a second wife.
As Chûjôhime grew up, she became more beautiful and clever.
But the second wife became jealous.
After Toyonari was died, the second wife tried to kill Chûjôhime.
But she escaped by the help of a retainer.
She left Nara, then she reached Taimadera.
And she became a nun.
One night, she saw a scenery of heaven in her dream.
Then she wove a cloth with the scenery of heaven within a day.
The cloth is called "Taima Mandara".
Twelve years later, she died at the age of 29.
It is said that the last figure of her was the same as Buddha in "Taima Mandara".
The main gate Niomon (仁王門) is on the east side, and the precinct extends from east to west.
There are Kondo (金堂) and Koudo (講堂) in the center of the precinct. These were rebuilt in the 12th to 14th centuries.
In the Kondo, seated Moroku Buddha statue is enshrined.
It was created in the late 7th century, and is designated as a national treasure.
There is Mandara-do (曼陀羅堂) to the west of Kondo and Koudo.
It is the main hall of Taimadera and "Taima Mandara" is enshrined in this hall.
The original building was built in the 9th century and this building was rebuilt in the 12th century.
This building and "Taima Mandara" are designated as national treasures.
Two three-story pagodas (East Tower, West Tower) stand on the south side in the precinct.
They were built around the 12th to 13th centuries.
These are also designated as national treasures.
A pair of original old pagodas are seen in a precinct.
That is only in Taimadera in Japan.
There is Nakanobou temple (中之坊) near Niomon.
It is a branch temple and it is said that Chûjôhime shaved her head and became a nun in this temple.
There is a Japanese garden Kôgûen (香藕園).
There is Okunoin temple (奥院) in the western part of the precinct.
It was founded as a temple related to Chion-in in Kyoto in 1370.
There are Roumon gate, Hondou (main temple), Amidado, etc. in the precinct and most of them were built in the 17th century.
And there is a Japanese garden "Jodo-teien" in the west edge of the precinct.
By the way, Taimadera is famous for flowers of peony.
There are thousand of peonies in the precints of Taimadera, Okunoin, and some small temples around Taimadera.
The season of blooming is from mid-April to mid-May.
How to get here
By Minami-Osaka Line of Kintetsu Railway, get off at Taimadera station.
About 45 minutes from Osaka-Abenobashi (Near Tennoji), about 21 minutes from Kashihara-Jingu-mae.
Then, about 15 minutes walk from there.
Hotels in Nara Prefecture
Other Tourist Attractions in Nara Prefecture
Around Nara city
Spots in Nara Basin
Other area in Nara Prefecture