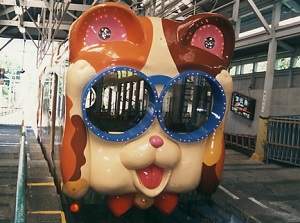 Cable car to Hozanji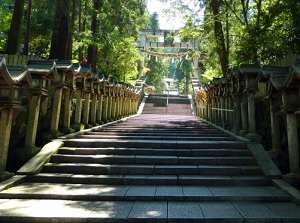 Approach to Hozanji
Hozanji is a Buddhist temple located halfway of Mount Ikoma (642 m).
"O" in the word is pronounced long, so it is read as "Hôzanji".
There is a mountain range between Nara Basin including Nara city and Osaka Plain including big Osaka city.
Mount Ikamo is the highest peak of the mountain range.
It is located about 15 km west of Nara city and 20 km east of central Osaka city.
Hozanji is on the eastern side and is located about 13 km west of Nara.
Since the 7th century, Mount Ikoma had been the training area for Buddhist monks.
This temple was founded by priest Tankai in 1678.
Hozanji had been also widely believed by the merchants in Osaka as the god of business.
Because the cable car was opened in 1918, the visitors have increased.
The cable car starts from the foot of the mountain near Ikoma station of Kintetsu Line .
The cars of dog and cat shapes run, so the scene is like an amusement park for children.
It takes only 6 minutes.
After arriving at the station near Hozanji, we walk on the approach of slope and stone steps for 300 meters.
Because Buddhist temple and Shinto shrine were often in the same place in the period of the foundation, there are a few Torii gates for Shinto shrine on the approach.
The temple grounds are not so wide, but there area many buildings in the site.
There are the main temple and some other buildings in the center of the precinct.
Behind them, rocky cliffs rise up, so the view is spectacular.
In addition, there is a carved place in the side of a cliff and small Miroku-Bosatsu Buddha statue is set up.
It was created in 1682, and the height is 117.5 centimeters.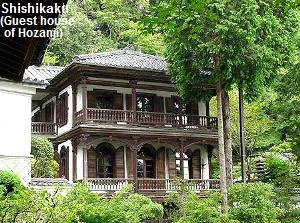 Shishikaku of Hozanji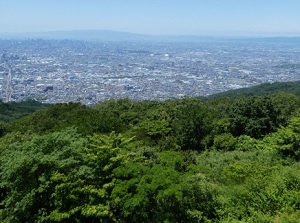 View of Osaka from Mount Ikoma
The types of the buildings are various, because they were built from the 17th to the 19th centuries.
One of them has a Western style.
It is Shishikaku (獅子閣) built in 1884.
The advanced chief priest at that time ordered a temple carpenter to build such Western-style building for guest house.
The carpenter studied Western architecture for three years in Yokohama where foreign residential area had been established.
He built the beautiful building mixing Japanese and Western elements.
It is designated as a national important cultural property, and is opened to the public a few times a year.
Another cable car leads from Hozanji station to the top of Mount Ikoma.
It takes 7 minutes.
On the top, there are an scenic overlook and an amusement park.
We can enjoy the view of Osaka Plain and Nara Basin.
How to get here
By Nara Line of Kintetsu Railway, get off at Ikoma station.
About 17 minutes from Kintetsu-Nara, about 22 to 28 minutes from Osaka-Nanba.
Then, by cable car, about 5 minutes from Torii-mae station (near Ikoma station) to Hozanji.
Hotels in Nara city
Other Tourist Attractions in Nara Prefecture
Around Nara city
Spots in Nara Basin
Other area in Nara Prefecture