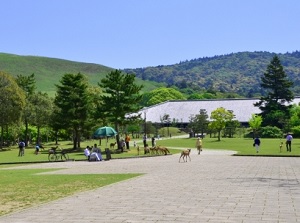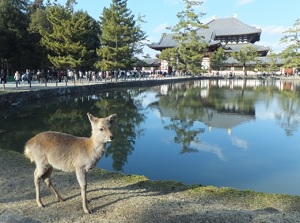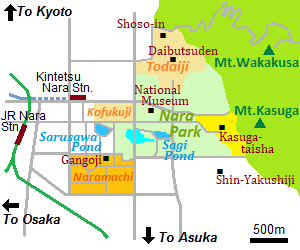 Nara Park is located to the east of central Nara city.
Actually, Todaiji, Shoso-in, Kasuga-taisha, Kofukuji and Nara National Museum are included in this park.
And the park includes Mount Wakakusa (Wakakusayama) and Mount Kasuga (Kasugayama) to the east of the city.
So, this park is most attractive area in Nara city.
The area is about 2 km from north to south, and about 4 km from east to west in width.
The western edge of the park is around about 1 km east of JR Nara station and about 0.4 km east of Kintetsu Nara station.
There is a wide expanse of green lawn in the main area.
The park has no gate or fence, so we can visit anytime for free.
When we visit above sightseeing spots, it is the same as wandering in Nara Park.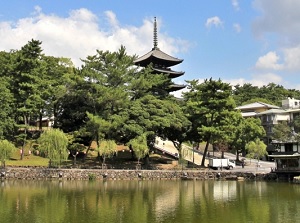 Sarusawa-ike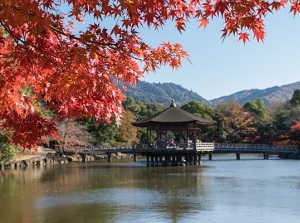 Sagi-ike
In the park, there are a few ponds.
Especially, Sarusawa-ike pond (猿沢池) is popular for the scenery, and is at the southwest edge of the park.
Five-story pagoda in Kofukuji and willow trees reflect on the surface of the water.
And there is Sagi-ike pond (鷺池) about 0.6 km east of Sarusawa-ike.
Small Ukimido temple (浮見堂) is on the pond.
Cherry blossoms in spring, crape myrtles in summer, and colored leaves in late autumn are popular as the scenery of the pond and Ukimido.

Deer in Nara Park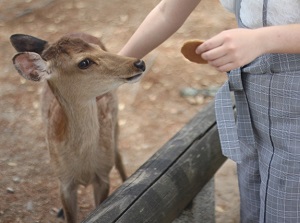 Cracker for deer in Nara Park
But after all, the symbol of Nara Park is deer. (In Japanese, "shika")
More than 1,300 deer are living in Nara Park.
Deer is the messenger of God in Kasuga-taisha shrine, so deer have been protected carefully since ancient times.
The deer are in the wild, so they basically eat the grasses or nuts in Nara Park.
The deer appear not only on the green field but also in the precinct and on the approach of temple and shrine, even in the town around the park.
But, you must not feed any food.
Only the cracker for deer sold in the park is allowed to feed.
How to get here
About 15 to 30 minutes walk from JR Nara station.
About 5 to 15 minutes walk from Kintetsu Nara station.
Hotels in Nara city
Other Tourist Attractions in Nara Prefecture
Around Nara city
Spots in Nara Basin
Other area in Nara Prefecture