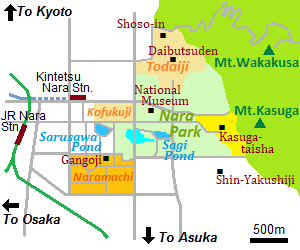 Kofukuji is a Buddhist temple.
"O" in the word is pronounced long, so it is read as "Kôfukuji".
It is located about 1 km southwest of Todaiji temple, and is at the west end of Nara Park.
There is Sarusawa-ike pond nearly to the south of this temple.
This temple is one of 9 constructions of "Historic Monuments of Ancient Nara" designated as a World Heritage Site.
Kofukuji was founded by Fujiwara Kamatari (614-669) in 669.
He was the ancestor of Fujiwara Clan which had been a noble family from ancient times to medieval times.
The original temple was built in Kyoto.
But Fujiwara Fuhito (659-720), Kamatari's son, moved to the current place in 710, because Nara became the capital of Japan.
And he named the temple "Kofukuji".
Fujiwara Clan had power and position, so this temple was enlarged by not only the clan but also the government.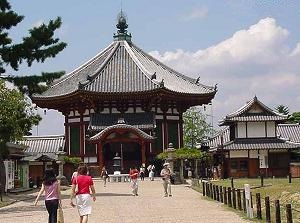 Nan'endo of Kofukuji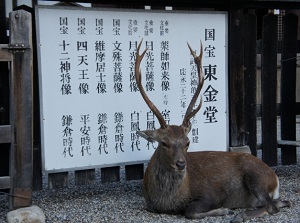 Deer in Kofukuji
Kofukuji had been the center of power through ancient and medieval times.
However, it was sometimes destroyed by fire in civil wars.
Especially the destruction by the civil war in 1180 was devastating, so all of the buildings were rebuilt after that.
But, Kofukuji became a normal temple after the foundation of Edo government in 1603.
After the fire in 1717, some of the main buildings were not rebuilt.
After feudal Edo government, New Meiji government had the policy of separation between Shinto shrine and Buddhist temple in 1868, then Kofukuji was abandoned.
The precinct was changed to a park and some buildings were sold.
But the excessive policy was reviewed, so Kofukuji was allowed to rebuilt in 1881.
And the buildings were repaired.
Some buildings, gates and fences had been gone, so current site of the temple is in Nara Park without gate and fence.
It is about 400 meters from east to west and about 250 meters from north to south.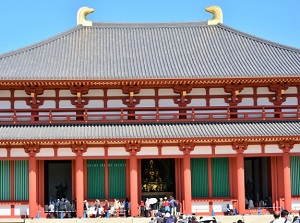 Chukondo of Kofukuji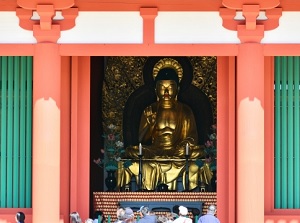 Buddha statue in Chukondo
In the precincts, there are several buildings.
Two main buildings are Chukondo and Tokondo.
Chukondo (中金堂) was rebuilt in 2018.
It had been the central temple of Kofukuji, but had not been rebuilt after the destruction by fire in 1717.
Now, it became the new central temple, and some important Buddha statues have been enshrined.
Tokondo (東金堂) was rebuilt in 1415, and has several Buddha statues.
The building and the statues are designated as national treasures.
There is Five-story pagoda (五重塔) near Tokondo.
It was built in 730 and was rebuilt in 1426.
It is designated as a national treasure.
The height is 50.8 meters, and is the Japan's second highest wooden tower after Toji's tower in Kyoto.
There are unique two octagonal temples.
Hokuendo (北円堂) is at the west edge of the precinct.
It was built in 721 and was rebuilt in 1208.
It is also designated as a national treasure.
Nan'endo (南円堂) is at the southwest edge of the precinct.
It was built in 813 and was rebuilt in 1741.
It is designated as a important cultural property.
But we can see the popular national treasures in Kokuhoukan (Museum of National Treasures).
In this museum, many sculptures, lanterns and bells are displayed.
Most popular sculpture is Ashura-zou created in the 8th century.
It has three faces and six arms, and its tension-filled but handsome expression of the face attracts us.
How to get here
By route bus, about 5 minutes from JR Nara station.
Get off at Kencho-mae stop.
If you walk from Kintetsu Nara station, it takes about 10 minutes.
Hotels in Nara city
Other Tourist Attractions in Nara Prefecture
Around Nara city
Spots in Nara Basin
Other area in Nara Prefecture