Shin-Yakushiji temple [
新薬師寺

]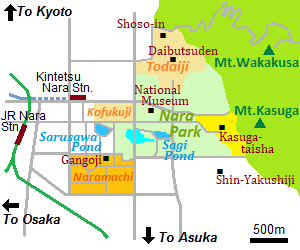 Shin-Yakushiji is a small temple of Kegon Buddhism which is the transmission of the Huayan school of Chinese Buddhism and isthe same as Todaiji.
It is located about 0.7 km south of Kasuga-taisha shrine.
An ancient book says that this temple was founded in 747.
Because Emperor Shomu (701-756) was ill, it is said that Empress Komyo, his wife, built this temple to wish his healing.
So, Yakushi Nyorai was enshrined in this temple.
Yakushi Nyorai is one of the gods of Buddhism, and is the god of health.
Great Yakushiji temple had already been in the suburbs of Nara city, then this temple was named Shin-Yakushiji.
"Shin" means "new".
When this temple was built, the temple grounds were broad.
But, it had declined since the 10th century.
Now, Hondou (main temple) is the only main building and there are only small Jizoudo and a bell tower in the narrow site.
But, Hondou is the original temple built in the 8th century, and is designated as a national treasure.
In the center of Hondo, there is seated Yakushi Nyorai statue.
It is 191.5 centimeters high, and is assumed to be created in the late 8th century.
It is also designated as a national treasure.
And the statues of 12 divine generals are arranged in a circle around Yakushi Nyorai.
These are the attendants of Yakushi Nyorai, and each pose of the statues is all different.
All of them are assumed to be created around the 730s or 740s.
11 statues of them are designated as national treasures.
Only one statue was destroyed by an earthquake in the 19th century and was restored in 1931, so it is out of national treasure.
Visitors can enter Hondou and see the statues of national treasures.
But, taking photos in Hondou is prohibited.
There is Kou-Yakushido temple (香薬師堂) to the west of Hondou, but it is not ordinarily open to the public.
How to get here
By route bus, about 13 minutes from JR Nara station or Kintetsu Nara station.
Get off at Takabatakecho stop.
On foot, about 10 minutes from Ni-no-Torii gate in Kasuga-taisha shrine, through a narrow path "Sasayaki-no-Komichi". (about 600 meters)
Hotels in Nara city
Other Tourist Attractions in Nara Prefecture
Around Nara city
Spots in Nara Basin
Other area in Nara Prefecture