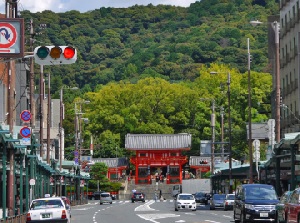 End of Shijo Street is Yasaka Shrine
Photo by Kyoto Free Photo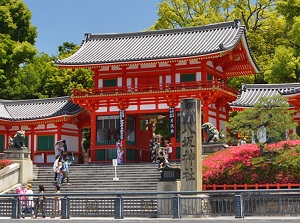 Nishi-Roumon of Yasaka Shrine
Photo by Kyoto Free Photo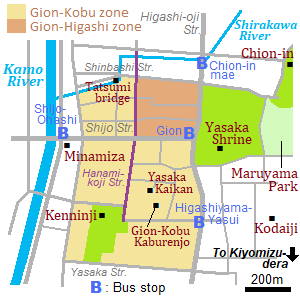 Yasaka Shrine is a Shinto shrine located in the center of Higashiyama area.
In Japanese, it is called "Yasaka-jinja".
The western district of this shrine is Gion.
So, the people in Kyoto call this shrine affectionately "Gion-san".
It is said that this shrine was founded in 656.
But the opinion has little evidence.
Rather, the leading theory is that Buddhist temple was founded in 876 then Shinto shrine was added later.
Gion Festival is one of famous festivals in Kyoto, and it is the annual festival of Yasaka Shrine.
It is said that the festival started around 970, and it is held from the 1st to 31st in July every year.
Especially the parade of 32 decorated floats is the highlight of the festival in the 17th.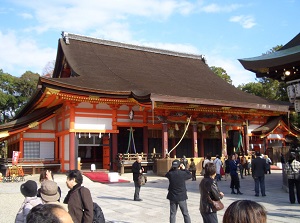 Honden of Yasaka Shrine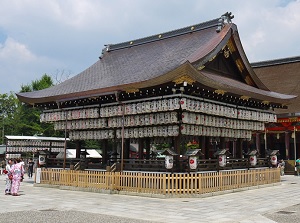 Buden of Yasaka Shrine
Photo by Kyoto Free Photo
There are some buildings in the precincts.
Wooden parts of the main buildings are painted bright red.
Nishi-Roumon (西楼門) is the main gate and is on the west side of the shrine.
It was built in 1497, and is also designated as an important cultural property.
Major repair work was carried out in 2007.
Honden (本殿, Main shrine) in the center of the site rebuilt in 1654.
Usually, in Shinto shrine, main shrine and front shrine to worship have been built separately.
But, Yasaka Shrine has both shrines under a roof.
It is also designated as an important cultural property.
There is Buden (舞殿) in front of Honden.
It is a stage for various ceremonies and events, and was rebuilt in 1903.
About 280 lanterns under the roof are very attractive, and all of them were donated by the retaurants and shops in Gion.
Recently, all lights in the lantern have been replaced with LED bulbs.
How to get here
By route bus, from Kyoto station, about 21 minutes to Gion stop.
Or, 500 to 700 meters walk from Gion-Shijo of Keihan Railway or Kawaramachi terminal station of Hankyu Railway.
Hotels around Yasaka Shrine
Other Tourist Attractions in Kyoto Prefecture