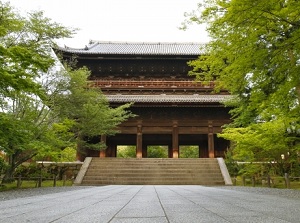 Sanmon of Nanzenji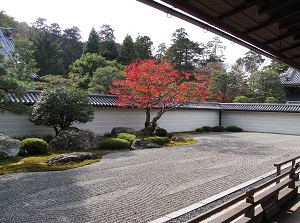 Japanese garden in Nanzenji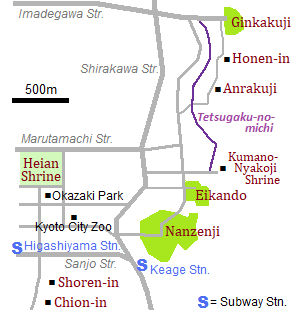 Nanzenji is a Buddhist temple of Rinzai school, one of the three Japanese Zen sects.
It is located about 1 km east-southeast of Heian Shrine.
And Chion-in temple is about 1.5 km southwest of this temple.
In 1289, Emperor Kameyama entered Buddhist priesthood at the age of 40.
And he changed a detached palace to a Buddhist temple in 1291.
It was current Nanzenji.
By 1299, many buildings had been set up as a major temple.
In the middle of the 15th century, it had been devastated by civil war.
But it had been revived from the early 17th century after the foundation of Edo Government.
And this temple has been the highest positon of all Japanese Zen temples.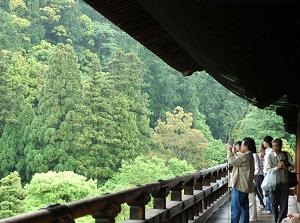 Terrace of Sanmon

Terrace of Sanmon in autumn
Photo by Kyoto Free Photo
After passing through Nakamon gate, we can see huge Sanmon gate (三門).
Sanmon Gate is one of the Japan's largest gates.
It was built in 1628, and the height is 22 meters.
We can go up to the terrace.
It is an observatory, and we can have a nice view of Kyoto city.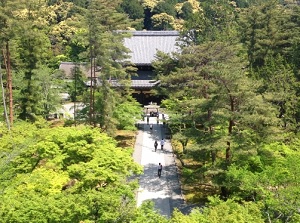 Hattou in Nanzenji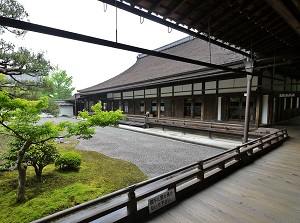 Daihoujou in Nanzenji
Photo by Kyoto Free Photo
There is big Hattou (法堂) about 100 meters east of Sanmon.
The original Hattou was built in 1606, but it was destroyed by fire in 1893.
Current building was built in 1909.
It is the main hall of the temple and is also used for various ceremonies.
There is Houjou (方丈) to the east of Hattou, and they are connected bu a corridor.
Houjou is the most attractive building in Nanzenji, and is designated as a national treasure.
Houjou consist of a large hall (Daihoujou) and a small hall (Shôhoujou).
Large hall is a building donated from Kyoto Imperial Palace in the late 16th century.
And small hall was built around the 1630s.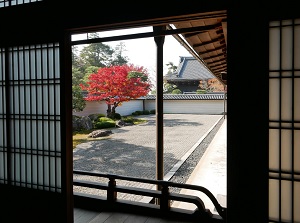 Houjou Teien in Nanzenji
Photo by Kyoto Free Photo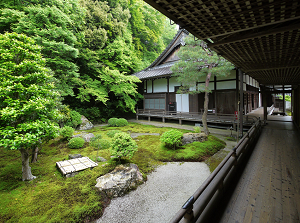 Other garden of Houjou in Nanzenji
Photo by Kyoto Free Photo
Houjou has some Japanese rooms, and seven rooms of them have valuable sliding screen paintings by the painters of Kano School which is the greated Japanese painters from the 15th to the 19th centuries.
There is a Japanese garden Houjou Teien in front of Daihoujou.
It was built in the early 17th century.
And there are two Japanese garden built in the 20th century by Shohoujou.
Small temples in Nanzenji
There are some minor temples in the site of Nanzenji.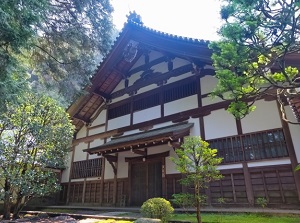 Nanzen-in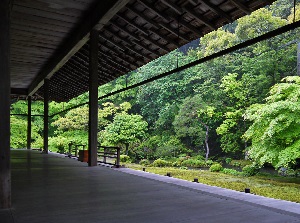 Garden in Nanzen-in
Photo by Kyoto Free Photo
Nanzen-in (南禅院) is to the south of Hattou.
It is a temple built on the site where original palace of Emperor Kameyama was.
The main temple is also called Houjou, and was rebuilt in 1703.
It has a Japanese garden, and it is that said the garden was created by Emperor Kameyama himself.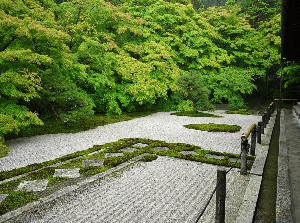 Japanese garden in Tenjuan
Photo by Kyoto Free Photo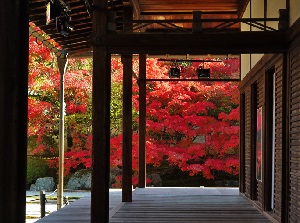 Tenjuan in autumn
Photo by Kyoto Free Photo
Tenjuan (天授庵) is to the south of Sanmon gate.
This temple was founded in 1339, and was restored in 1602.
This temple has two Japanese gardens, and the colored leaves in autumn are very attractive.
Suirokaku (
水路閣

)

There is a unique construction in the precincts.

It is Suirokaku like a Roman aqueduct.
The water of Lake Biwa are sent to Kyoto city through it.

It was completed in 1890, and runs near the entrance of Nanzen-in.

Of course, there were arguments for and against the construction at that time.
But it has already been in harmony with the scene of the old temple now.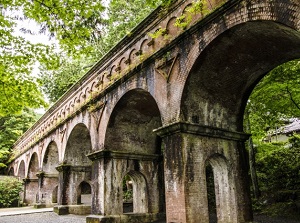 Suirokaku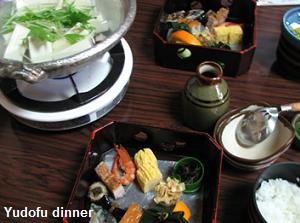 Yudofu dinner around Nanzenji
Yudofu of Nanzenji
Nanzenji is known for Yudofu.
Yudofu is a hot pot dish that tofu is simply boiled in water and is eaten after dipped in any sauce.
It is said that a restaurant along the approach to Nanzenji was the birthplace of Yudofu.
There are several restaurants of Yudofu along the approach.
How to get here
The nearest station of subway is Keage (●T09 Tozai Line).
About 400 meters walk from the station.
Or, by route bus, from Kyoto station, about 25 minutes to Nanzenji Eikando-michi stop.
Then about 10 minutes walk from there.
Other Tourist Attractions in Kyoto Prefecture