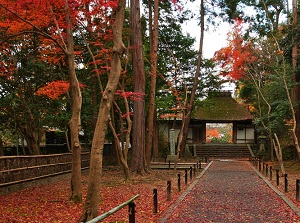 The gate of Honen-in in autumn
Photo by Kyoto Free Photo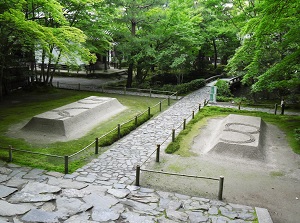 Byakusadan in Honen-in
Photo by Kyoto Free Photo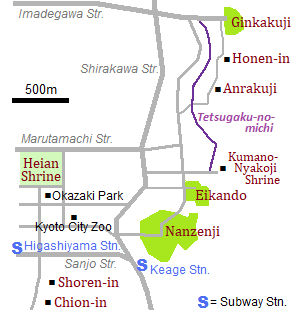 Honen-in is a Buddhist temple located about 0.4 km south of Ginkakuji temple.
And Nanzenji temple is about 1.5 km south of this temple.
Honen (1133-1212) was a priest who founded Jodo-shu (Pure Land Buddhism).
He had trained with his disciples in a small hut in this site, at one time.
But Honen had been exiled in his later years and some of his disciples were punished by the death penalty, because his Jodo-shu had been regarded as a bad religion.
So the small hut had fallen into ruin over a long period.
In 1680, Banbu, the 38th chief priest of Chion-in temple, decided to build a new temple related to Honen in this site, and current Honen-in was constructed.
The main gate has a thatched roof, so we receive the modest impression.
After entering the gate, we find two mounds of white sand on the both sides of the passway.
These are called Byakusadan (白砂壇), and the mounds mean "water".
Our bodies and minds are purified with passing between the mounds.
There are some buildings and gardens in the site surrounded by a lot of trees.
Especially, there are many camellia trees.
The admission fee is free.
But the visitors are not allowed to enter Hondou (Main temple) and some other buildings and to take photos of them.
The buildings are specially opened to the public only on April 1 to 7 and November 1 to 7 for a fee.
How to get here
By route bus, from Kyoto station, about 30 minutes to Jodoji stop.
Then about 500 meters walk from there.
Or, about 700 meters walk from Ginkakuji.
Other Tourist Attractions in Kyoto Prefecture