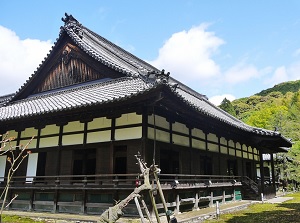 Shinden in Shoren-in
Photo by Kyoto Free Photo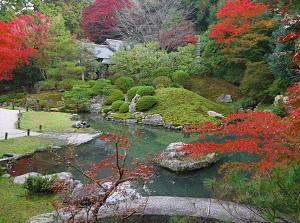 Japanese garden in Shoren-in
Photo by Kyoto Free Photo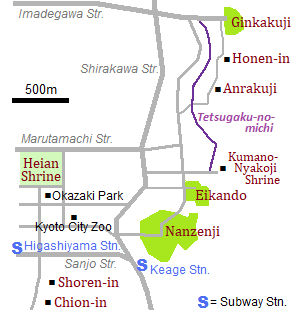 Shoren-in is a temple of Tendai school of Buddhism introduced from China.
It is located just north of Chion-in temple.
"O" in the word is pronounced long, so it is read as "Shôren-in".
This temple was founded by Bifukumon-in, the empress of Emperor Toba, in 1150.
The seventh son of Emperor Toba became a priest and entered this temple.
Since that, imperial family or relatives has been the chief priest of this temple.
This temple related to imperial family is called "Monzeki", so the formal name of this temple is Shôren-in Monzeki (青蓮院門跡).
When Kyoto Imperial Palace burst into flames in 1788, this temple was used as a temporary imperial palace.
Therefore, it is also called Awata Gosho (粟田御所) from the name of the place.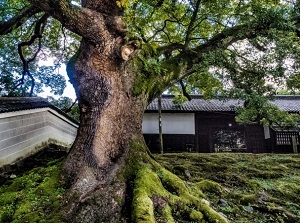 Nagaya-mon & camphor tree in Shoren-in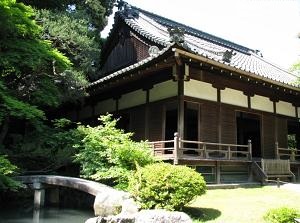 Kogosho in Shoren-in
Main gate is Nagaya-mon (長屋門), and is on the west side of the temple.
There are five big camphor trees around the gate.
It is said that high priest Shinran planted these trees around the end of the 12th century, and they have been designated as natural monuments of Kyoto City.
Most buildings in this temple were destroyed by fire in 1893.
Current buildings were rebuilt after that.
The main buildings are Shinden, Kogosho, and Kachôden.
These buildings are connected by corridors.
Shinden (宸殿) is the largest building in this temple.
It is used as the main hall for various ceremony.
Kogosho (小御所) was the building used as a temporary palace.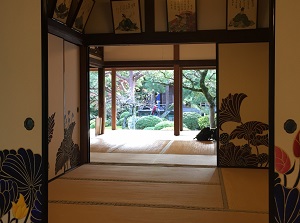 Kachoden in Shoren-in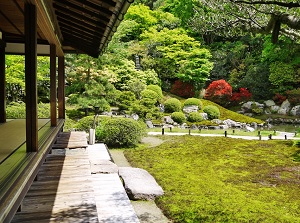 Japanese garden in Shoren-in
Photo by Kyoto Free Photo
Kachôden (華頂殿) is a guest house.
And there is a small main Buddhist temple near Kogosho.
There are some beautiful Japanese gardens around these buildings.
These were created by Souami and Kobori Masakazu in the 16th century.
How to get here
The nearest station of subway is Higashiyama (●T10 Tozai Line).
About 400 meters walk from the station.
Or, by route bus, from Kyoto station, about 20 minutes to Jingu-michi stop.
Other Tourist Attractions in Kyoto Prefecture