Bishamon-do temple [
毘沙門堂

]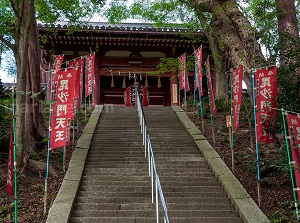 Niomon of Bishamon-do
Photo by inariage.com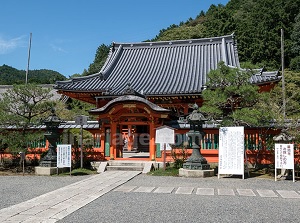 Hondou of Bishamon-do
Photo by inariage.com
Bishamon-do is a temple of Tendai school of Buddhism introduced from China.
It is located about 1.2 km north of Yamashina station of JR and Keihan Railway.
The temple is on the mountainside at the southern edge of Higashiyama mountains.
The original temple was founded as "Izumoji" to the north of Kyoto in 703.
In 1195, this temple was consolidated with other three temples and became a big temple.
The temple was destroyed by fire in 1571, and was restored in current place in 1665.
From the early 18th century, imperial family or relatives has been the chief priest of this temple.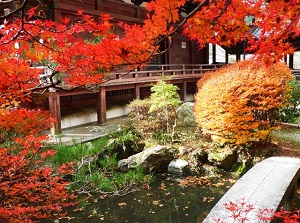 Colored leaves in Bishamon-do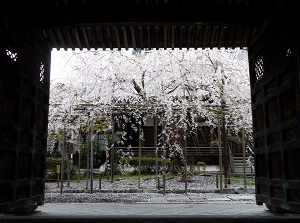 Cherry blossoms in Bishamon-do
Photo by Kyoto Free Photo
The principal image of this temple had been "Bishamon-ten" which is one of guardian gods of Buddhism.
So the name of this temple became "Bishamon-do".
And, this temple related to imperial family is called "Monzeki", so the formal name of this temple is Bishamon-do Monzeki (毘沙門堂門跡).
Bishamon-do is one of popular spots of cherry blossoms and autumn leaves in Kyoto.
Main gate is Niomon (仁王門) and is located at the top of 56 stone steps.
There are some buildings in the precinct.
The central temple is Hondou (本堂), and Bishamon-ten is enshrined in the temple.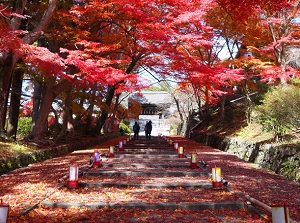 Approach to Chokushimon in Bishamon-do
Photo by Kyoto Free Photo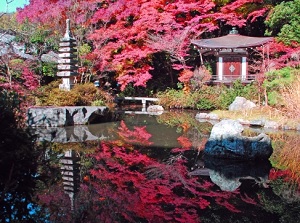 A pond in Bishamon-do
Cherry blossoms and autumn leaves are seen around the approach and the precinct.
There is Chokushimon gate (勅使門) to the west of Niomon.
It is the gate for the Emperor, and is usually closed.
The approach to Chokushimon is a gentle slope, and is a popular spot of autumn leaves.
How to get here
The nearest station of subway is Yamashina (●T07 Tozai Line).
Some trains of Tozai Line go to Keihan Yamashina station.
Or, by local train of JR Biwako Line, about 4 minutes from Kyoto station. (next station)
From Yamashina station, about 1.2 km walk (about 20 minutes).
Hotels in Yamashina Ward
Other Tourist Attractions in Kyoto Prefecture