Ninen-zaka, Sannen-zaka [
二年坂, 三年坂

]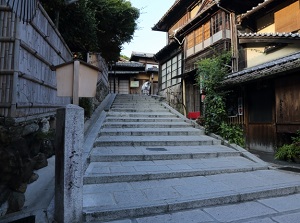 Ninen-zaka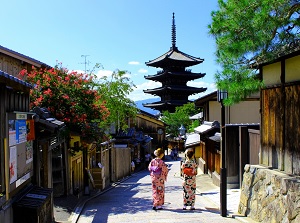 Yasaka Pagoda from Ninen-zaka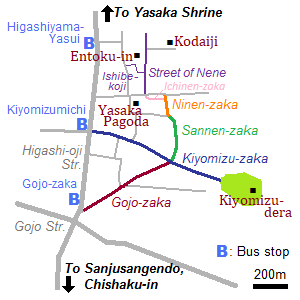 Ninen-zaka & Sannen-zaka are a series of approaches to Kiyomizu-dera.
These are gentle and narrow sloping streets with flagstones and stone steps.
The streets run from the northwest of Kiyomizu-dera to the halfway point of Kiyomizu-zaka approach.
The north part is Ninen-zaka and the south part is Sannen-zaka.
The total length of them is about 400 meters.
Along the streets, there are many souvenir shops, the shops of Kiyomizu-ware (a pottery created around Kiyomizu-dera), tea houses and Japanese restaurants.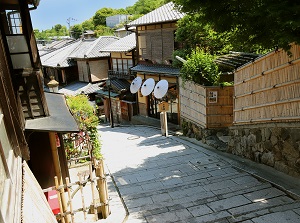 Ninen-zaka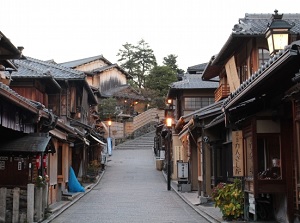 Sannen-zaka
The streets have a Kyoto's unique atmosphere, so many visitors walk always.
"Ninen-zaka" means "slope of two years", and "Sannen-zaka" means "slope of three years".
("Nen" means "year".)
It is said that you will die within two years when you fall down on Ninen-zaka and you will die within three years when you fall down on Sannen-zaka.
Please be careful not to fall down here.

Sannen-zaka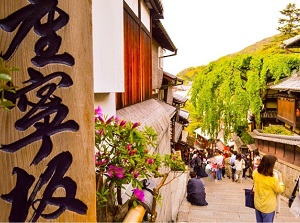 Sign of 'Sannei-zaka'
By the way, the original names of the streets were "Ninei-zaka" and "Sannei-zaka".
Especially, the name of "Sannei-zaka" is often used.
"Sannei" (産寧) has different meaning from "three years".
It means "easy delivery".
Women who want to be blessed with a baby had walked uphill for worshipping through this slope to Kiyomizu-dera.
How to get here
By route bus, from Kyoto station, about 15 minutes to Gojozaka stop, about 17 minutes to Kiyomizumichi stop.
Then about 10 minutes from each bus stop.
Hotels around Kiyomizu-dera
Other Tourist Attractions in Kyoto Prefecture