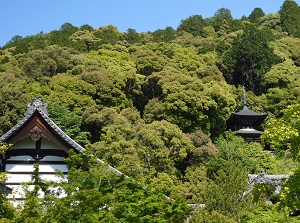 Eikando in early summer
Photo by Kyoto Free Photo

Eikando in autumn
Photo by Kyoto Free Photo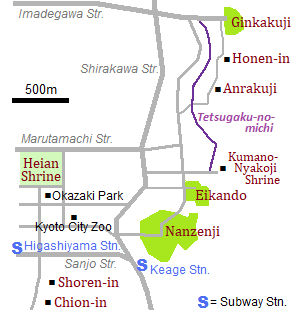 Eikando is a Buddhist temple located just to the north of Nanzenji temple.
The formal name of the temple is Zenrinji (禅林寺).
This is the head temple for the Seizan branch of Jodo-shu (Pure Land Buddhism).
It was founded in 853, and Amida Buddha has been enshrined.
And the name of "Zenrinji" was given by Emperor Seiwa (850-881) in 863.
In the 12th century, priest Yokan developed this temple, because he encouraged many people to chant a Buddhist invocation to be happy and did some charity works such as helping the sick.
After that, the kanji characters of "Yokan" had been read as "Eikan", then the popular name of this temple became "Eikando".
After passing through the main gate, we reach Chumon gate (中門).
It is the main entrance to the precinct.
Around Chumon, there is Japanese garden.
Many buildings on the slope of Higashiyama mountains, and corridors connect them.
The visitors can see the temples walking on the corridors.
The main buildings are Shaka-do (釈迦堂, built in 1627), Miei-do (御影堂, built in 1912), and Amida-do (阿弥陀堂, built in 1597).
Principal Image of Buddha is enshrined in Amida-do.
It is a unique Amida statue created in the late 12th century, and the face turns to the side.
People have called it "Mikaeri Amida" (Looking-back Amida).
On a hill, there is Kaizan-do (開山堂) and Tahôtô pagoda (多宝塔).
To Kaizan-do and pagoda, there is an attractive corridor Garyûrô (臥龍廊).
In whole precinct, there are a lot of maple trees.
So, the temple is filled with colored maple leaves in autumn, and that is the biggest attraction of Eikando.
These colored leaves are best viewed from the middle to the end of November.
How to get here
The nearest station of subway is Keage (●T09 Tozai Line).
About 900 meters walk from the station, or about 500 meters walk from Nanzenji.
Or, by route bus, from Kyoto station, about 25 minutes to Nanzenji Eikando-michi stop.
Then about 5 minutes walk from there.
Other Tourist Attractions in Kyoto Prefecture