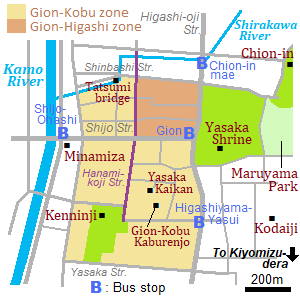 Gion is a main entertainment district in Kyoto.
It had developed as a shrine town of Yasaka Shrine since the 17th century.
Shijo Street runs to the west from the west gate of Yasaka Shrine facing Higashi-oji Street, and Gion extends on both sides of Shijo Street.
The north end is Shinbashi Street, and the width from north to south is about 200 meters.
The south end is Yasaka Street, and the width from north to south is about 600 meters.
And the western end is Kamo River.
The width from east to west is about 500 meters.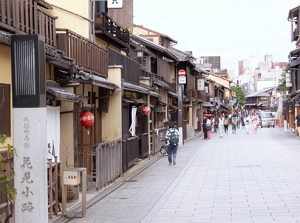 Hanami-koji in Gion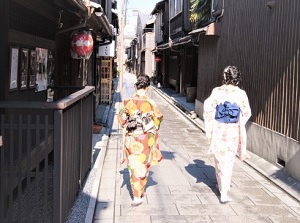 Narrow street of Hanami-koji
From north to south, Hanami-koji Street (花見小路) runs in the center of this district.
This district is divided into four zones by Shijo Street and Hanami-koji Street.
The northeast zone is called "Gion-Higashi" and the three other zones are called "Gion-Kobu".
Each zone has a different Geisha and Maiko group.
There are many old Japanese restaurants and tea houses in this district.
The guests order Geisha and Maiko, and enjoy the entertainment by the beautiful women.
Such restaurant is called Chaya or Ochaya.
The houses of Geisha and Maiko in each zone send a team of them to the Chaya.
They sing some songs, dance and entertain the guests.
But it is difficult for you to enjoy such entertainment.
Because they entertain only the regular guests and the guests introduced by them.
You and the first guests are refused to accept the request basically.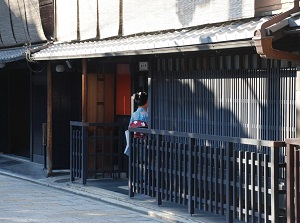 Chaya in Gion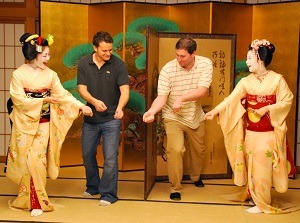 Playing with Maiko in Chaya
Photo by Gion Hatanaka
Geisha and Maiko work in this district, so you can sometimes find them.
They are on the way to go to a restaurant where important guests are waiting.
Recently, many foreign visitors often surround them, interfare in them and take photos.
It is reported that some of them make advance to Maiko.
They are working.
And they are not the idols for the tourists.
Watch them from far.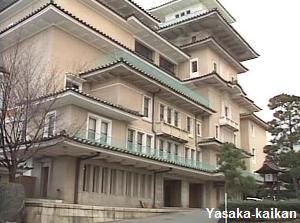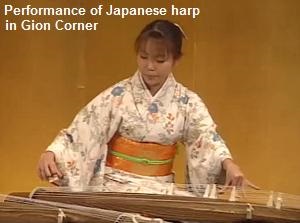 If you want to watch the performance by Geisha and Maiko, please visit Gion Corner in Yasaka-kaikan building.
It is located in the center of Gion district.
Gion Corner is a museum introducing Gion and Maiko, and a show introducing various performances of Kyoto such as dance by Maiko, tea ceremony, flower arrangement, Japanese harp, Bunraku (Japanese puppet show) and Gagaku (Japanese ancient court music) is held at 18:00 and 19:00 every day from March to November.
(In other monthes, it is held on frifay, saturday and Sunday.)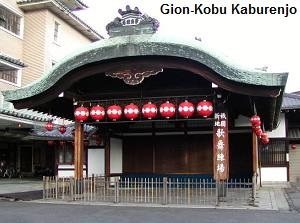 As the open performance of the dance in the year, Miyako Odori is held for a month in April.
It is held in Gion-Kobu Kaburenjo theater.
This performance has been held since 1872.
Several dances by many Maiko are performed based on a story, and it is very colorful and is filled with Japanese atmosphere.
This event is very popular, so the tickets usually sell out early
To get the ticket, you had better ask any major travel agency to get the ticket by early March.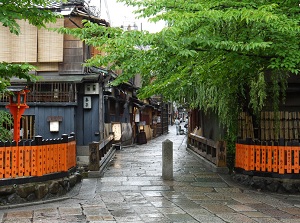 Tatsumi-bashi in Gion Shirakawa
Photo by Kyoto Free Photo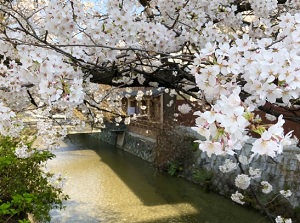 Shirakawa River in spring
In the north part of Gion district, you can enjoy another Kyoto atmosphere.
Narrow Shirakawa River flows, and there are many trees along the river.
Also traditional houses are along the river.
This area is called Gion-Shirakawa (祇園白川).
Small Tatsumi-bashi (巽橋, Tausimi Bridge) is the center of the area and the scenery is popular.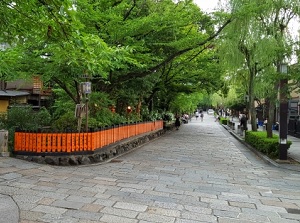 Street in Gion-Shirakawa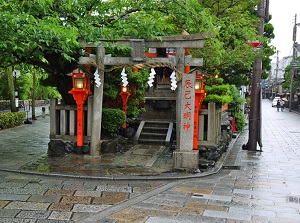 Tatsumi Daimyojin in Gion Shirakawa
Photo by Kyoto Free Photo
There is small Tatsumi Daimyojin shrine (辰巳大明神) near the bridge.
This shrine is revered by Geisha and Maiko in Gion, so we can sometimes see them worshipping.
How to get here
By route bus, from Kyoto station, about 21 minutes to Gion stop.
Or, Kawaramachi erminal station of Hankyu Railway and Gion-Shijo station of Keihan Railway are also the nearest stations.
Other Tourist Attractions in Kyoto Prefecture