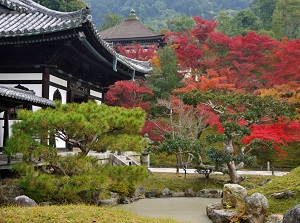 Kaisando in Kodaiji
Photo by Kyoto Free Photo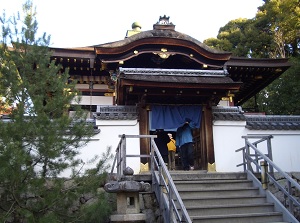 Otamaya in Kodaiji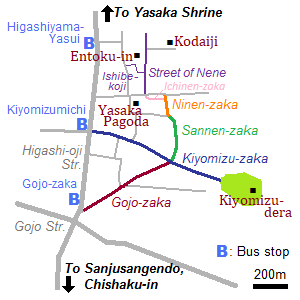 Kodaiji is a Buddhist temple of Rinzai school, one of the three Japanese Zen sects.
"O" in the word is pronounced long, so it is read as "Kôdaiji".
It is located about 0.9 km north of Kiyomizu temple.
Toyotomi Hideyoshi unified Japan in 1590, after one hundread years of military conflict by many warlords.
But he died in 1598.
Nene was Hideyoshi's wife, and she became a nun after his death.
She built this temple for her dead husband in 1606.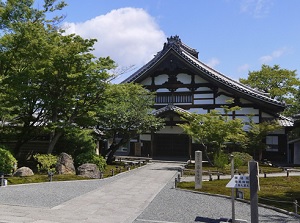 Kori in Kodaiji
Photo by Kyoto Free Photo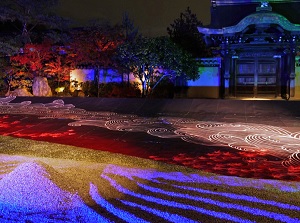 Illuminated garden in Kodaiji
Photo by Kyoto Free Photo
Tokugawa Ieyasu, the founder of Edo Government and its first Shogun, provided generous support to the construction of this temple.
So it is said that the original temple was with authority.
Since 1789, this temple sometimes caught fire.
So, the original buildings are Kaisando temple, Otamaya temple and Kasa-tei tea house among more than a dozen buidings in the precincts.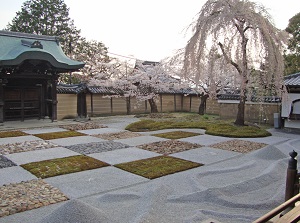 Garden of Houjou
Photo by Kyoto Free Photo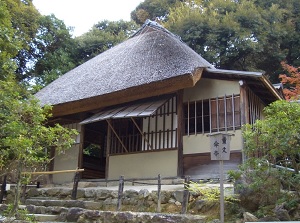 Kasa-tei rea house in Kodaiji
Current main temples are Houjou, Kuri, etc. and these were rebuilt in the 1910s.
Kaisando (開山堂) is the former main temple, and the statues of Hideyoshi and Nene are enshrined in Otamaya (霊屋).
Both temples are connected by a corridor Garyôrô (臥龍廊) about 60 meters long.
The whole site is like a Japanese garden, and the above buildings are in the site.
And Kasa-tei (傘亭) and a few tea houses are dotted in the site.
Entoku-in (
圓徳院

)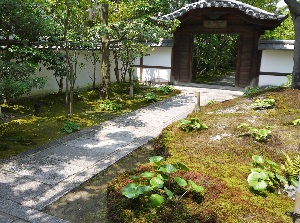 Karamon gate in Entoku-in
Photo by Kyoto Free Photo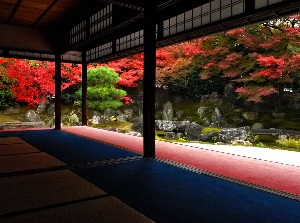 Japanese garden in Entoku-in
Photo by Kyoto Free Photo
Entoku-in is a small Buddhist temple belonging to Kodaiji.
It is located to the west of Kodaiji.
This temple was built in 1605, in the previous year of construction of Kodaiji.
Nene lived in this temple from the completion to her death (1624).
There are some buildings, and the beautiful Japanese garden is designated as a scenic beauty in Japan.
And the sliding screen paintings in Houjou temple are created by Hasegawa Tohaku (1539-1610) and some Japanese painters and are very gorgeous.
Street of Nene (
ねねの道

)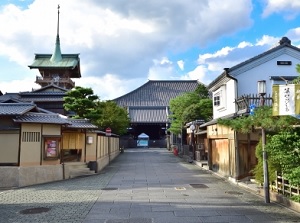 Nene no michi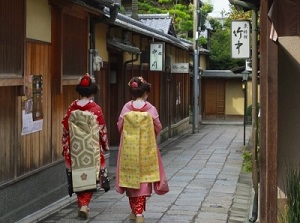 Ishibe-koji
Street of Nene ("Nene no michi" in Japanese) is a narrow street running along the west side of Kodaiji.
Entoku-in is to the west of this street.
The south end is near Ninen-zaka, and the north end is Maruyama Park.
The total length is about 400 meters.
It is said that Nene had often walked on this street.
This street has been paved with stones, and became a popular street to visit Kodaiji and Entoku-in.
In addition, there is an popular narrow alley at the south side of Entoku-in.
It is called Ishibe-koji (石塀小路).
There are traditional Japanese houses on the both side, and we can soak up the unique atmosphere of Kyoto.
How to get here
By route bus, from Kyoto station, about 18 minutes to Higashiyama-Yasui stop.
Then about 5 minutes from the bus stop to Kodaiji.
Other Tourist Attractions in Kyoto Prefecture