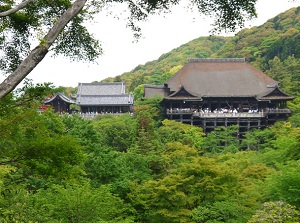 Kiyomizu-dera
Photo by Kyoto Free Photo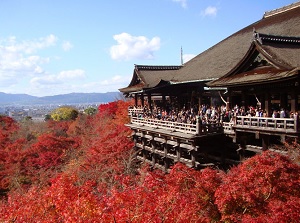 Kiyomizu-dera in autumn
Photo by Kyoto Free Photo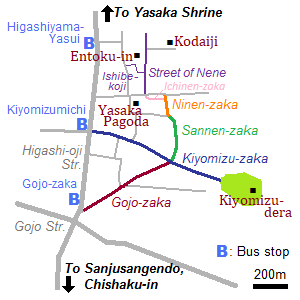 Kiyomizu-dera is a Buddhist temple located about 3 km east-northeast of Kyoto station.
It is on the mountainside of Higashiyama mountains.
In English, it is also called "Kiyomizu Temple".
This temple was founded in 778 before transferring of the national capital from Nara to Kyoto in 794.
A young priest training in Kofukuji temple in Nara received a Buddha's prophecy in his dream.
According to the prophecy, he travelled toward north.
He found golden water flowing in a brook near current Kiyomizu-dera.
So he walked along towards the source of the brook.
Around the source, he met an old practicing priest.
He was 200 years old.
The old priest said, "I have been waiting for you for a long time."
Because he had to travel toward east, he asked the young priest to practice like him there.
The old priest gave a sacred wood to the young priest, and left.
The young priest realized that the old priest was an incarnation of a Buddhist God.
Therefore, he created a statue of Kannon with many arms ("Senju-Kannon", one of Buddhist deities) from the sacred wood, and built a temple.
It was the origin of Kiyomizu temple.

Terrace of Kiyomizu-dera
Photo by Railstation.net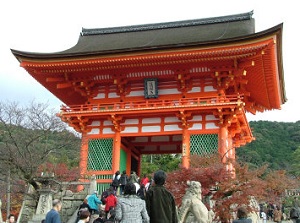 Niomon gate in Kiyomizu-dera
Photo by Railstation.net
There are many buildings on the gentle slope of the mountain.
Hondou (本堂) is the main temple, and it is the famous and unique building.
It was rebuilt in 1633, and is designated as a national treasure.
A broad terrace is attached in front of the main part of the temple.
It looks like a great stage.
The terrace is over the slope of the mountainside, so it is supported by 139 pillars using no nail.
Each of the foremost six pillers is 12 meters long, and is not round but hexadecagon.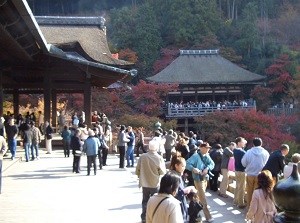 On the terrace of Hondou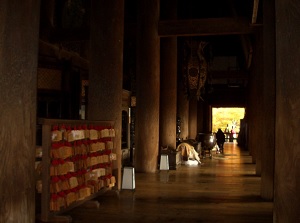 Inside of Hondou
In Hondou, three miniature shrines are set up, and each shrine houses an important Buddha statue.
One of them houses the original statue of Senju-Kannon.
The statue is exposed only once every 33 years. (The last exposition was in 2000.)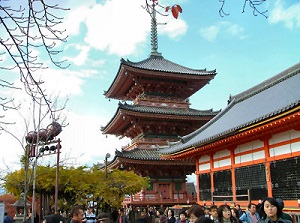 Three-storied pagoda in Kiyomizu-dera
Photo by Railstation.net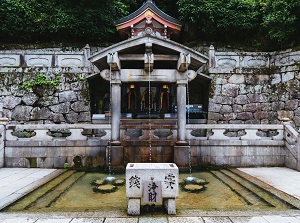 Otowa no Taki
On the east side of Hondou, there is Otowa no Taki (音羽の滝).
It is a spring that the young priest found golden water.
Clear waters fall through three gutters.
Unfortunately, the water is not golden color now.
But, it is said that you will live long if you drink the water.
The other buildings in the precincts are designated as national important cultural properties.
And this temple is one of 17 constructions of "Historic Monuments of Ancient Kyoto" designated as World Heritage Site.

Kiyomizu-zaka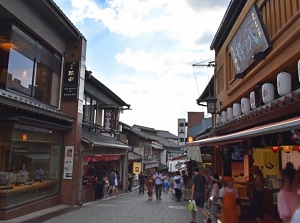 Kiyomizu-zaka
There are some approaches to the temple.
On Higashi-oji Street, there are two entrances to Kiyomizu-dera.
One is Kiyomizu-zaka street (清水坂) from Kiyomizumichi intersection.
Another is Gojo-zaka street (五条坂) from Higashiyama-Gojo intersection.
Both approaches are about 1.0 to 1.2 km long from the intersections, and there are many souvenir shops and cafes along the streets.
And, old and narrow streets, Ninen-zaka and Sannen-zaka branch to the north on the way of Kiyomizu-zaka street.
How to get here
By route bus, from Kyoto station, about 15 minutes to Gojozaka stop, about 17 minutes to Kiyomizumichi stop.
Then about 15 to 20 minutes from each bus stop to the temple.
Hotels around Kiyomizu-dera
Other Tourist Attractions in Kyoto Prefecture