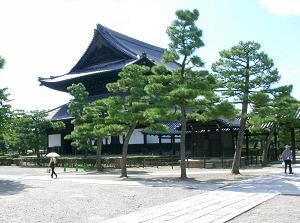 Kenninji

Garden of Houjou in Kenninji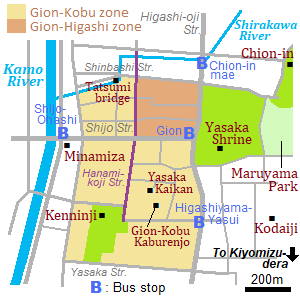 Kenninji is a Buddhist temple of Rinzai school, one of the three Japanese Zen sects.
It is located on the southwest part of Gion district.
Kodaiji temple is located about 0.8 km east of this temple.
This temple was founded by high priest Eisai in 1202.
Eisai (1141-1215) studied Zen Buddhism in China two times in 1168 and 1187.
Then he founded Shofukuji as the Japan's first Zen temple in Fukuoka city in 1195.
And he was invited in Jufukiji temple in Kamakura in 1200 and the temple became the capital's first Zen temple.
After that, Kenninji was founded as the Zen temple in Kyoto.
The site of the temple is about 100 meters from east to west and about 300 meters from north to south.
On the south end, there is Chokushimon (勅使門) as the main gate.
It is said that it was built around the 14th century.
There is large Sanmon gate (三門) to the north of Chokushimon.
It was built in Hamamatsu city in the late 19th century and was moved to this temple in 1923.
In the center of the site, there is Hattou temple (法堂).
It is the main hall and was built in 1765.
On the ceiling, there is great picture of "Twin Dragons" (双龍図).
It was painted by Koizumi Junsaku (1924-2012), and was his last work.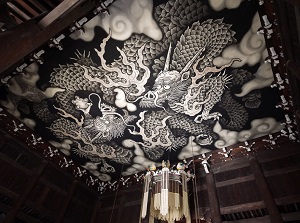 Picture of Twin Dragons in Hattou
Photo by Kyoto Free Photo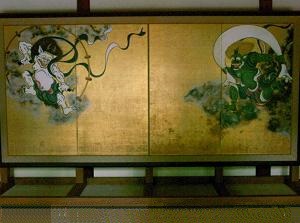 Screens of Wind God and Thunder God (Replica)
in Kenninji
To the north of Hattou, there is Houjou temple (方丈).
It was built around the 14th or 15th century, and was moved to here in 1599.
Houjou has famous "The folding screens of Wind God and Thunder God" (風神雷神図) which is the best work of Tawaraya Sotatsu, one of the greatest painters in the 16th to 17th centuries.
The real works are exhibited in Kyoto National Museum, and the replica is set up here.
It is designated as a national pleasure.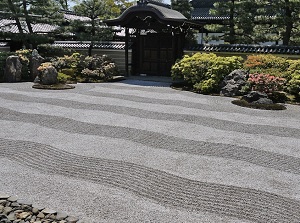 Daiyuen in Kenninji
Photo by Kyoto Free Photo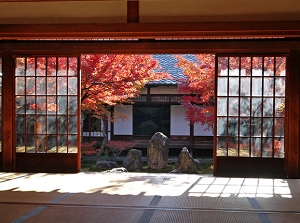 Chouontei in Kenninji
Photo by Kyoto Free Photo
And Houjou has a Japanese stone garden Daiyûen (大雄苑).
To the north of Houjou, there is a Japanese garden covered with moss Chouontei (潮音庭).
There are some other buildings in this site.
And there are many small temples around this temple.
How to get here
By route bus, from Kyoto station, about 18 minutes to Higashiyama-Yasui stop.
Then about 5 minutes from the bus stop to Kenninji.
Other Tourist Attractions in Kyoto Prefecture