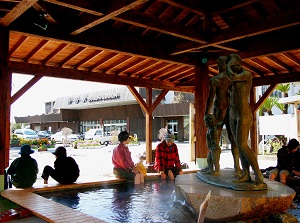 Footbath in front of JR Ibusuki station
Photo: Kyushu Tourism Promotion Organization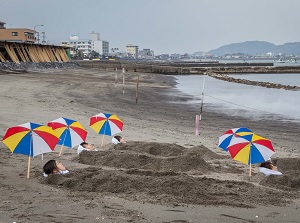 Sunamushi onsen in Ibusuki
Photo: Kyushu Tourism Promotion Organization
Ibusuki Onsen is a hot spring resort located near the southeastern edge of Satsuma Peninsula.
It is about 45 km south of Kagoshima city.
Since ancient times, hot spring had gushed out in the swamp along the shore.
And, the hot spring resort has developed since the late 19th century.
Spring quality is chloride spring.
Some resort hotels are dotted by the shore about 3 km long.
Ibusuki Onsen is famous for sand steam bath.
It is called "Sunamushi onsen" (砂蒸し温泉).
There is the facility of Sunamushi onsen named "Sunamushi Kaikan, Saraku" in the center of the resort area.
There is the sand beach about 1 km long and you can enjoy the sand steam bath.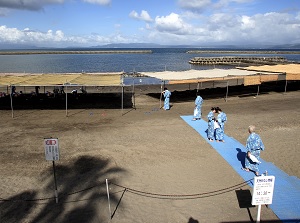 Visitors to Sunamushi onsen
Photo: Kyushu Tourism Promotion Organization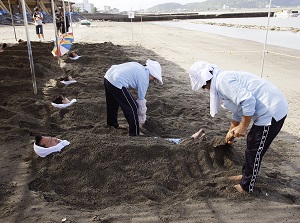 Covering sand on visitor
Photo: Kyushu Tourism Promotion Organization
You wear only a yukata (thin cotton kimono).
An attendant digs up the sand on the beach and you lie in the hole.
Then, the attendant covers your body with sand thickly.
The temperature of the sand is about 50 to 55 degrees C.
The sweat springs up on your body.
It usually takes 10 minutes to bathe.
When you are satisfied, you get out of the sand.
In addition, some hotels have the area of sand steam bath and you can use it when you stay in such a hotel.
How to get here
By JR Ibusuki-Makurazaki Line, from Kagoshima-Chuo to Ibusuki station, about 55 minutes by rapid train, about 1 hour and 25 minutes by local train.
From Ibusuki station to the shore, the distance is about 600 meters.
A route bus is operated from the station, 4 minutes to Sunamushi Kaikan, and 6 minutes to Iwasaki Hotel.
Hotels around Ibusuki Onsen
Other Tourist Attractions in Kagoshima Prefecture
Mainland of the prefecture
Southern islands of the prefecture