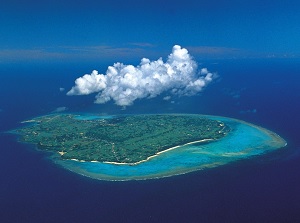 Yoronjima
Photo: Kagoshima Prefectural Visitors Bureau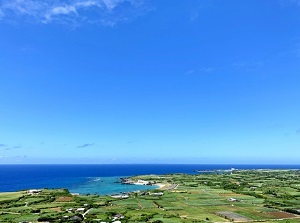 Town and sea of Yoronjima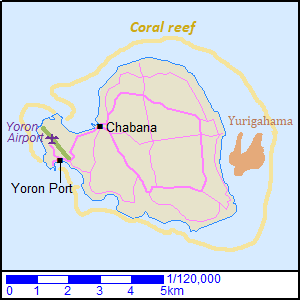 Yoronjima is a small island located about 550 km south-southeast of Kyushu Island.
It belongs to Kagoshima Prefecture, but it is located only about 25 km north-northeast of Okinawa Island.
It is sometimes called "Yorontou", and is also translated as "Yoron Island".
The island is about 7 km from east to west and about 5 km from north to south.
The highest place reaches an altitude of 97 meters and there is no mountain.
It is located in the subtropical zone and coral reefs surround the island.
The sea around the island is clear and beautiful.
So, it has always been a popular resort island.

Yurigahama
Photo by Yoron Tourism Association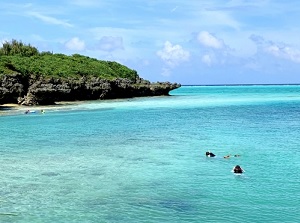 Sea of Yoronjima
There is Yurigahama sand beach (百合ヶ浜) between eastern beach and the reef.
The beach appears only at low tide, and is the popular spot in Yoronjima.
Chabana (茶花) in the west part of the island is the central town, and there are many shops.
There is Yoron Airport and Yoron Port at the west edge of the island.
They are located about 2 km southwest of Chabana district.
Along the whole coast of the island, there are many resort beaches.
There are many resort hotels and inns.
A route bus is operated on a road around the island.
And you can use taxi, rental car and rental bicycle.
How to get here
By airplane, about 1 hour and 20 minutes from Kagoshima Airport, about 40 minutes from Okinawa Airport.
By ship:
Kagoshima Port 18:00 - next day 13:40 Yoronjima.
Naha Port (Okinawa) 7:00 - 11:50 Yoronjima.
Other Tourist Attractions in Kagoshima Prefecture
Mainland of the prefecture
Southern islands of the prefecture