Tanegashima Space Center [
種子島宇宙センター

]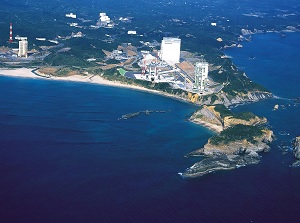 Tanegashima Space Center
Photo: Kagoshima Prefectural Visitors Bureau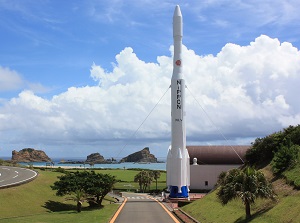 Space Science and Technology Museum
Photo: Kyushu Tourism Promotion Organization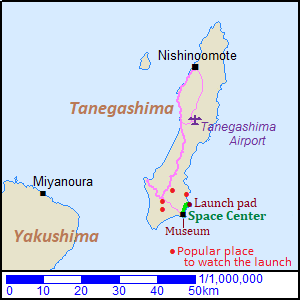 Tanegashima is an island located about 40 km south of Kyushu Island.
There is Yakushima Island about 30 km southwest of this island.
In 1543, a Portuguese ship was tossed ashore on this island.
The samurais were introduced matchlock gun from the Portuguese merchant.
After that, the powerful gun was called "Tanegashima".
Tanegashima is a long island.
It is about 60 km from north to south, and the widest part is about 12 km from east to west.
The shape of the island is similar to a rocket.
Very steep and mountainous Yakushima is near this island, but Tanegashima is relatively flat.
The highest mountain is 282 meters above sea level.
Nishinoomote is the central city of this island and is located in the north part of the island.
Some ships operated between Kagoshima and Yakushima stop at this city.
Tanegashima Space Center is located in the southern part of the island.
It is located about 45 km south of Nishinoomote city.
It is one of Japan's space development facilities, and is run by Japan Aerospace Exploration Agency (JAXA).
This facility was built in 1969, and all Japanese rockets have been launched from this facility since 2006.
The buildings and the facilities are dotted on the leafy hilly area about 4 km along the coast facing the Pacific Ocean.
There are two launch pads and the northern launch pad is mainly used recently.
It is on the cape surrounded by clear sea and coral reef, so it is called "the most beautiful rocket launching site in the world".
There is Space Science and Technology Museum (宇宙科学技術館) at the south edge of the site.
It introduces rocket, space satellite, International Space Station, and various fields of space development.
Guided tour is held three times a day, but advanced reservations are required.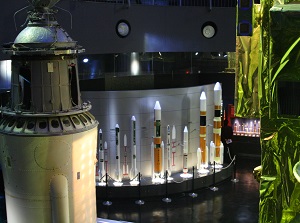 Space Science and Technology Museum
Photo: Kyushu Tourism Promotion Organization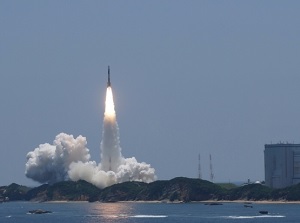 Scene of launch at a park near Space Center
When a rocket is launched, the museum is closed.
And the visitors must be more than 3 km away at that time.
Some popular places to watch the launch are known.
They are the common parks and a municipal athletics stadium near Space Center.
Many people gather in the places every time.
In this facility, the rockets were launched 6 times in 2017, 4 times in 2018, 1 time in 2019.
How to get here
There is Tanegashima airport in the center of the island.
By airplane, it takes 40 minutes from Kagoshima Airport.
From the airport, by route bus, 41 minutes to A-Coop-mae (Minami-tane town).
Change to the bus, then 13 minutes to Space Center (Uchu-center stop).
Or, by high-speed ship, 1 hour and 35 minutes from Kagoshima Port.
From the port, by route bus, 1.5 hours to Space Center (Uchu-center stop).
Hotels around Kagoshima city
Other Tourist Attractions in Kagoshima Prefecture
Mainland of the prefecture
Southern islands of the prefecture