Former Japanese Naval Underground Headquarters [
旧海軍司令部壕

]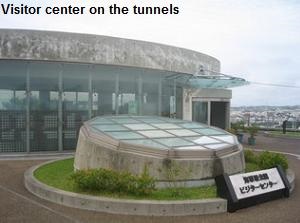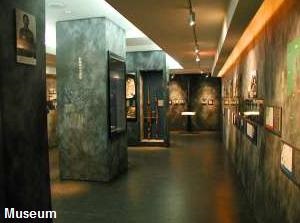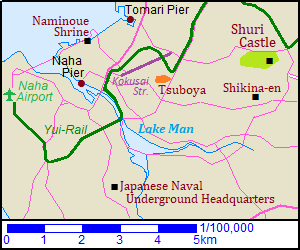 Former Japanese Naval Underground Headquarters is the air-raid shelter used as the headquarter of Japanese Navel during the Battle of Okinawa in 1945.
It is on a hill located about 4 km south of central Naha city.
In 1944, Japan was going to lose the Pacific War (World War II).
U.S. forces had come to the south of Okinawa, so Okinawa Island became the frontline to defend Japan.
Japanese army constructed this underground headquarters to guard the important airport which is the current Naha Airport.
The soldiers could overlook the airport on this hill.
The underground headquarters were completed in December, 1944.
The total length of the tunnel was about 450 meters.
And planning room, staff room, soldier rooms, etc. were set up along the tunnel.
This headquarters were used from January, 1945.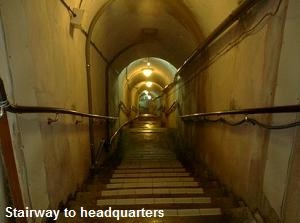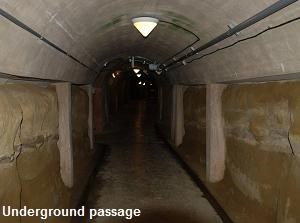 U.S. forces started the fierce attack on Okinawa from late March, 1945.
Then, they made a landing on Okinawa Island on the last day in March.
And the grueling ground battles were fought for two months in the south part of Okinawa Island.
In the confusion, the underground headquarters had been isolated.
And the area around the headquarters had been surrounded by U.S. forces, on June 4.
On June 6, Japanese commander Oota Minoru in the headquarters sent a telegram to his boss of Japanese Imperial Navy.
Commonly, Japanese military hoped that Japan would win rather than people's happiness.
But he reported that Okinawa residents had been under the tragic battle but fought bravely.
And, at the close of the telegram, he hoped to make special consideration to Okinawa residents in the future.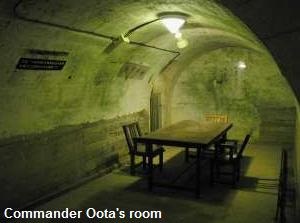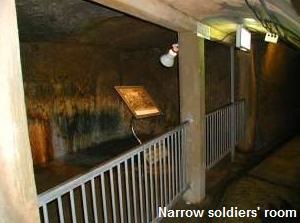 On June 11, concentrated attacks were made on the headquarters, but the soldiers in the headquartes held out against the attack to the end.
At last, on June 13, Oota decided to end the battle.
He killed himself in the headquarters.
Then the battle finished.
It is said that over 4,000 soldiers died in the headquarters.
After the war, the war survivors visited here and gathered the soldiers' bones in 1953 and 1958.
And a cenotaph was built.
In 1970, the headquarters were restored and was opened to the public.
Since 1972, the site around the headquarters has been the park.
How to get here
By route bus, 11 minutes from Asahibashi Bus Terminal near Asahibashi station of Yui-Rail to Tomushiro-koen-mae stop.
From the bus stop, about 400 meters walk.
Hotels around Former Japanese Naval Underground Headquarters
Other Tourist Attractions in Okinawa Prefecture
South part in Okinawa Island
Middle and north part in Okinawa Island
Other islands of the prefecture