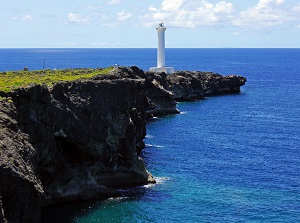 Cape Zanpa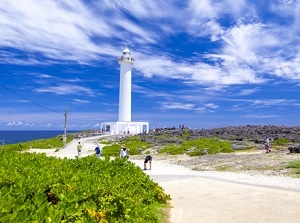 Lighthouse on Cape Zanpa
Cape Zanpa ("Zanpa-misaki" in Japanese) is located roughly in the center of west coast of Okinawa Island.
It is located about 5 km northwest of Zakimi Castle, and is about 30 km north of Naha city.
The coast about 2 km long has the cliffs about 31 meters high around the cape.
But the land on the cliffs is relatively flat.
There is a natural park around the cape.
A lighthouse stands on the tip of the cape.
It was built in 1974, and the height is about 30 meters.
On the south side of the cape, there is Zanpa Beach.
It is a beautiful beach with white sand.
There are a hotel and a golf course near the beach.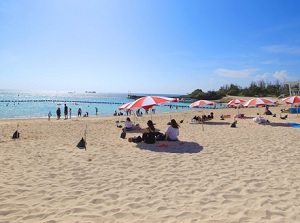 Zanpa Beach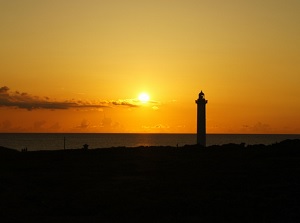 Sunset at Cape Zanpa
On March 26th, 1945, US troops occupied Kerama Islands about 40 km south of this cape.
Then, they advanced toward this cape as a landmark of Okinawa Island.
And they landed on the beach to the south of Cape Zanpa on April 1st.
On this day, the fierce Battle of Okinawa started.
Now, this cape is one of the good scenic spots in Okinawa Island.
In addition, we can enjoy the beautiful view of sunset.
How to get here
By route bus, about 1 hour and 20 minutes from Naha terminal to Yomitan terminal.
About 50 minutes walk from there (About 3 km).
Other Tourist Attractions in Okinawa Prefecture
South part in Okinawa Island
Middle and north part in Okinawa Island
Other islands of the prefecture