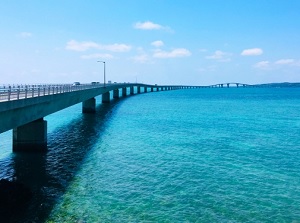 Irabu-Ohashi bridge from Miyako Island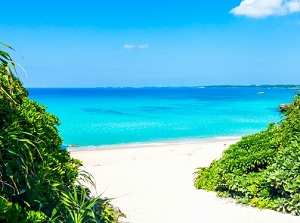 Sunayama Beach in Miyako Island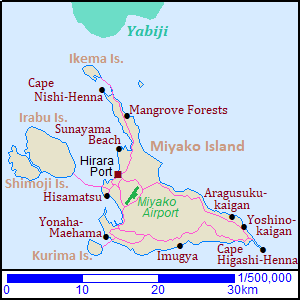 Miyako Island ("Miyakojima" in Japanese) is located about 300 km southwest of Okinawa Island.
It has the shape of a right angled triangle, and it is about 21 km from north to south and about 22 km from east to west.
There are Irabu Island (伊良部島) and Shimoji Island (下地島) about 4 km west of Miyako Island.
A narrow channel like a river are between both islands.
Irabu-Ohashi bridge connects Miyako Island and Irabu Island.
There is Ikema Island (池間島) about 2 km north of the northern tip of Miyako Island.
Ikema-Ohashi bridge connects both islands.
And there is small Kurima Island (来間島) about 1.5 km southwest of Miyako Island.
Also, Kurima-Ohashi bridge connects both islands.
Miyako island is relatively flat, and the highest point is only 115 meters above sea level.
The land is formed by limestone.
So, there is no river in this island, because rain water is almost absorbed into the land.
Poisonous snake "habu" lives in most islands in Okinawa, but there is no habu in Miyako Island.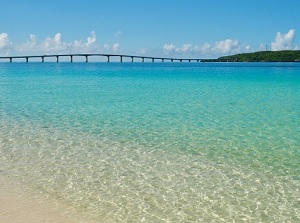 Yonaha-Maehama in Miyako Island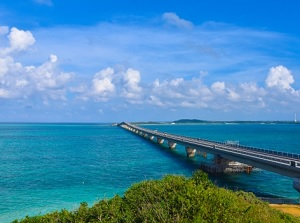 Ikema-Ohashi bridge from Ikema Island
Around the 14th century, some powerful families appeared in this island and struggle for power occured.
But this island became under the control of Ryukyu Kingdom in Okinawa island.
In 1873, a ship of German merchant sailing from China to Australia ran aground near the southern coast of Miyako Island in a typhoon.
An islander found it, but it was impossible to rescue the crews by boat on the stormy sea at night.
So the islanders gave them courage by overnight bonfires on the shore.
The next morning, some islanders rescured eight suvivors by two boats on the stomy sea.
And, the islanders took good care of them.
After they had stayed in Miyako Island for about a month, they came back to Germany.
The story was appeared in a newspaper in Germany, then it created a sensation.
Wilhelm I (1797-1888), the first German Emperor, knew the news.
And he was deep-moved by the humanity of the islanders.
The Emperor sent a naval ship to Miyako Island in 1876, and gave a monument as a sign of thanks to Miyako Island.
When the 26th G8 Summit was held in Okinawa in 2000, Gerhard Schröder, the Chancellor of Germany, conducted goodwill visit to Miyako Island.
Since that, this island is one of the centers of cultural exchange between Japan and Germany.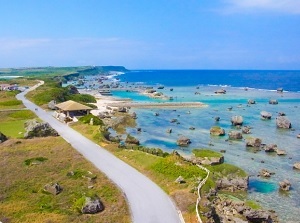 Cape Higashi-Henna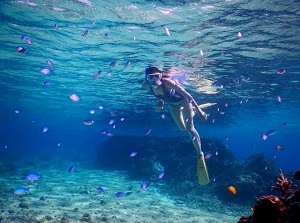 Sea around Miyakojima
In Miyako Island, we can see the beautiful beaches and the spots associated with old Miyako and German.
The central area of the island is Hirara district (平良) on the west coast.
There is Hirara Port, but it has no service of passenger ferry now.
Miyako Airport is about 5 km southeast of Hirara district.
There are some resort hotels, and many small minshuku (Japansese style inn) or resort inns in this island.
Route bus is operated in the island.
The buses run from Hirara to the various places in the island.
But they run only 3 to 7 times a day on each route.
To tour around Miyako Island, you had better rent a car or motorbike, or use a sightseeing taxi.
Around Hirara district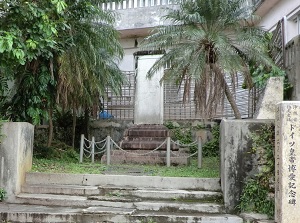 German Emperor Philanthropic Monument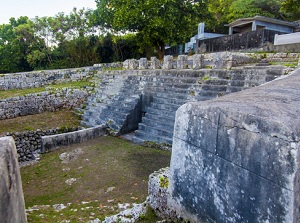 Tomb of Nakasone Tuyumya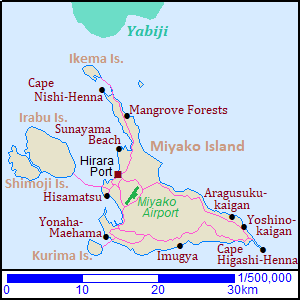 There are a few historical spots around Hirara Port.
German Emperor Philanthropic Monument (ドイツ皇帝博愛記念碑) is the monument given from German Emperor in 1876.
(In Japanese, "Doitsu Kôtei Hakuai Kinenhi")
It is located in the residential district in Hirara and about 150 meters southeast of Hirara-ko Crossing near Hirara Port.
On the monument, the story about the shipwreck and rescue work is inscribed in German and Chinese.
Tomb of Nakasone Tuyumya (仲宗根豊見親の墓) is the old tomb located about 150 meters northeast of Hirara-ko Crossing.
Nakasone Tuyumya was the lord who unified Miyako Island in the late 15th century.
He built this tomb for his dead father.
It was made by piling up stones and is like an Incan pyramid.
It is designated as a nationally important cultural property.
There is Nintôzei-seki (人頭税石) about 500 meters north of Tomb of Nakasone Tuyumya.
It is also called "Jintôzei-seki".
It is an old stone pillar 143 centimeters tall.
"Nintouzei" means "tax of body height", and it is said that the people who was taller than the stone had to pay the tax.
But it is said that the story was not true, so it is unknown why this stone was built.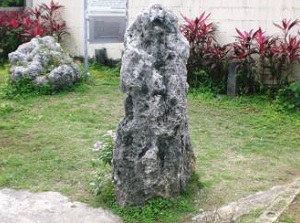 Nintozei-seki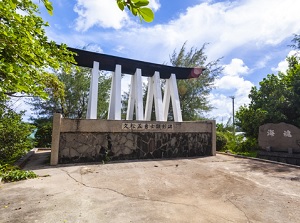 Monument of five brave men in Hisamatsu
There is Monument of five brave men in Hisamatsu (久松五勇士顕彰碑) near Hisamatsu fishing port about 3.5 km southwest of Hirara.
In 1904, Japanese-Russo War started for gaining the rights and interests in the northeast area of China and Korean Peninsula.
Russia was going to move Baltic Fleet from Baltic Sea to the Sea of Japan in May 1905.
But Japan army didn't confirm where the fleet was navigating.
At last, an observer in Miyako Island found the fleet around the island.
But he had to go to Ishigaki Island about 120 km west of Miyako Island to report to the headquarter by telegraph.
So five fishermen around Hisamatsu district crossed the sea to send the message by small fishing boat.
They rowed the boat toward Ishigaki Island for 15 hours.
They landed on the eastern coast of Ishigaki Island and ran to the telegraph station for 30 km.
It took about 5 hours.
Finally, the important message reached to the telegraph station.
Soon, the message was sent to the Imperial Headquarters in Tokyo.
But the same information had already been delivered from the other patrol ship an hour before.
The information led Japan to the victory of the war.
The activity of five fishermen was not the achievement.
But, about 30 years later, this fact was introduced and was written in the school textbook.
Since that, they had been known as the heroes.
The monument was built in 1966.
North part in the island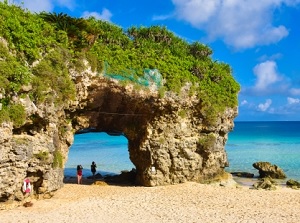 Sunayama Beach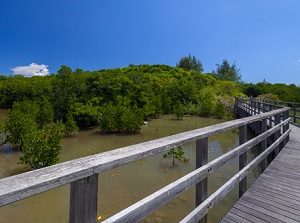 Shimajiri Mangrove Forests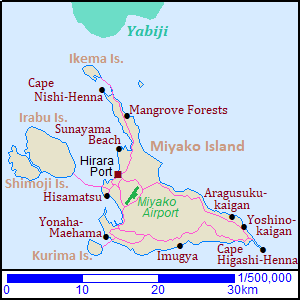 Sunayama Beach (砂山ビーチ) is a popular beach in Miyako Island.
It is located about 4 km north of Hirara district.
"Sunayama" means "sand mound".
There is a hill of white sand behind the beautiful beach.
There is an attractive rock with a hole on the beach.
Shimajiri Mangrove Forests is the mangrove forests along the coast of an small cove.
It is located about 9 km north of Hirara district.
The forests of mangrove are the largest in Miyako Island.
The walking trails are set up in the forest.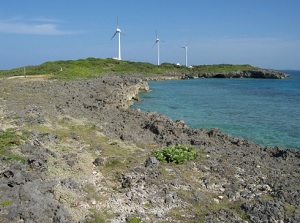 Cape Nishi-Henna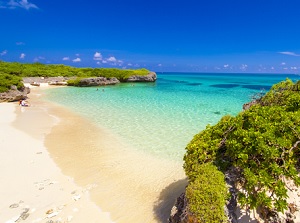 Beach in Ikema Island
Cape Nishi-Henna (西平安名岬, "Nishi-Henna-zaki" in Japanese) is the northern and western tip of Miyako Island.
It is located about 14 km north of Hirara district.
There is Ikema Island about 2 km north to this cape.
And Ikema-Ohashi bridge is about 1 km to the east.
Some large windmills for wind-power generation stand around this cape.
It is one of the scenic spots.
Ikema Island (池間島) is a small island to the north of Miyako Island.
We can visit this island across Ikema-Ohashi bridge 1,425 meters long.
There is Ikema Marsh (池間湿原) in the center of the island.
It is the largest marsh in Okinawa Prefecture, and various creatures live in and around the marsh.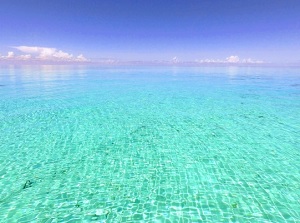 Sea around Yabiji

Coral reef of Yabiji
The broad coral reefs spread under the sea to the north of Ikema Island.
It is called Yabiji (八重干瀬).
It is one of the popular diving spots in Okinawa.
Many boat tours are operated from Ikema island and Hirara Port.
There are about 100 coral reefs from 5 km to 22 km north of Ikema Island and the width is about 6.5 km.
South part in the island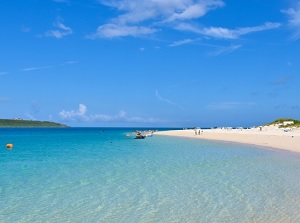 Yonaha-Maehama beach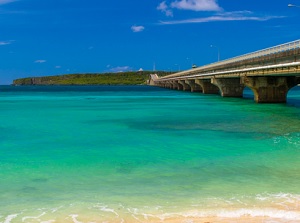 Kurima Island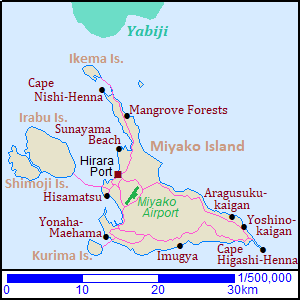 There are some beautiful beaches in the south part in the island.
Yonaha-Maehama (与那覇前浜) is a beach of white sand at the southwestern edge of the island.
The length of the beach is about 7 km.
In front of the beach, there is Kurima Island (来間島).
It is a small island and Kurima-Ohashi bridge about 1,690 meters long connects both islands.
There is Ryûgûjô Observatory, and we can see the scenery of Yonaha-Maehama beach.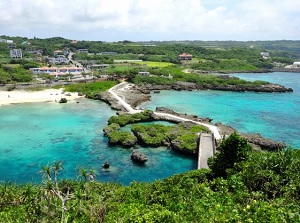 Imugya Marine Garden

Inlet of Imugya Marine Garden
Imugya Marine Garden is a small marine park for snorleking.
It is in the middle of the southern coast and is about 12 km east of Yonaha-Maehama.
There is an inlet about 200 meters wide and the rocks like a break water surrounds the inlet.
It is like a natural pool and wakling trails are set up around the inlet.
It is a popular place for snorkeling and the view is also good.
On the southeastern coast, there is Yoshino-kaigan beach (吉野海岸).
And there is Aragusuku-kaigan beach (新城海岸) about 2.5 km northwest of Yoshino-kaigan.
These beaches are shallow, and are suitable for snorkeling.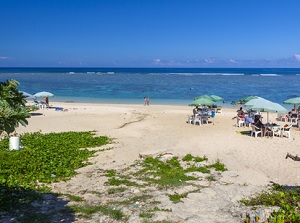 Aragusuku-kaigan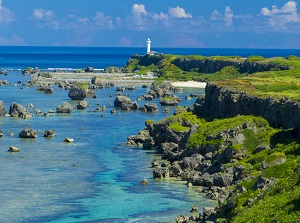 Cape Higashi-Henna
A narrow and long peninsula expands at the southeastern edge of the island.
It is Cape Higashi-Henna (東平安名岬, "Higashi-Henna-zaki" in Japanese).
The length is about 2 km, and the widest part is about 160 meters.
The cliffs about 20 meters high surround the peninsula.
But the ground on the peninsula is flat and a road is set up.
The wind is always strong, so over 200 kinds of plants resisting strong wind grow on the peninsula.
There is a lighthouse 24 meters tall on the tip of the peninsula and the visitors can climb it.
How to get here
By airplane, about 50 minutes from Naha Airport.
By route bus, from Hirara Port, about 30 minutes around Yonaha-Maehama, about 40 minutes to Kurima Island, about 40 minutes around Yoshino-Kaigan and Aragusuku-kaigan.
Other Tourist Attractions in Okinawa Prefecture
South part in Okinawa Island
Middle and north part in Okinawa Island
Other islands of the prefecture