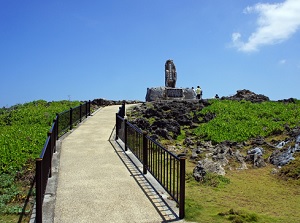 Road to Cape Hedo

Cape Hedo
Cape Hedo ("Hedo-misaki" in Japanese) is located at the northern end of Okinawa Island.
It is located about 110 km northeast of Naha city, and is about 50 km away from Nago city.
The northern area of Okinawa Island between the cape and Nago city is hilly and is covered with forest.
It is administratively in "Kunigami village".
This area is called Yanbaru and the most parts in the area are designated as Yanbaru National Park.
Yanbaru has a number of endemic species, and "Yanbaru-kuina" is well-known in particular.
It is a species of bird in the rail family and is "Okinawa Rail" in English.
Cape Hedo was formed by elevated coral reef, and a flat tableland surrounded by cliffs spreads.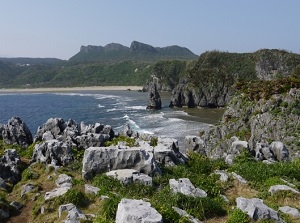 Coast around Cape Hedo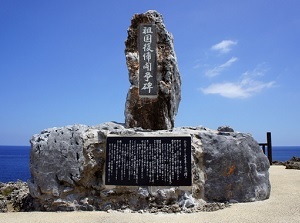 Sokuku Fukki Toso-hi on Cape Hedo
There is Monument in Commemoration of the Reversion of Okinawa to Japan (祖国復帰闘争碑, "Sokoku Fukki Tôsô-hi" in Japanese) on the cape.
After the Pacific War (World War II), Okinawa had been under American control since 1945.
(Formally, that started by the conclusion of the San Francisco Peace Treaty in 1951.)
American troops constructed several military bases in Okinawa Island, and many Okinawa farmers were deprived of their land.
Okinawa became the land of American's colony, and Okinawa people had been forced to do hard lives.
So they had sometimes fought a losing battle against American troops.
They sometimes held a meeting to require Okinawa's reversion to Japanese administration on Cape Hedo.
And they sent smoke signals to Yoron Island about 22 km offshore where was the southern end of Japan.
The signals were evidently seen in Yoron Island.
In addition, both people went to the borderline on the sea by ship and deepened the relationship on the ships every New Year's Day.
The long-cherished wish of Okinawa people was realized in 1972, and Okinawa was returned to Japan.
Then, this monument was built here in 1976.
The passion of Okinawa people hoping the peaceful lives has been inscribed on this monument.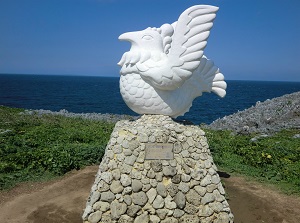 Statue of Kariyushi on Cape Hedo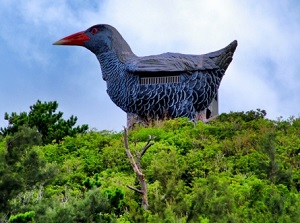 Yanbaru-kuina Observatory
Near the monument, there is a statue like a white bird.
It is the monument of friendship between Kunigami village and Yoron Island, and was presented from Yoron Island.
The animal of the statue is called "Kariyushi".
It is a legendary animal in this area, and it has a head of a bird and a body of a fish.
To the south of the cape, there is an observatory in ths shape of a bird.
The bird is "Yanbaru-Kuina".
We can see the good view of Cape Hedo from the observatory.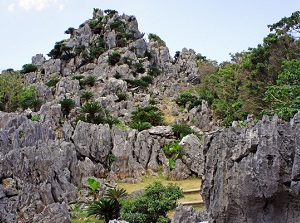 Daisekirinzan park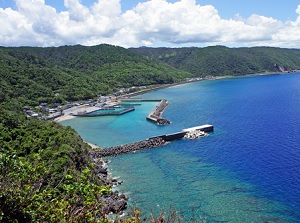 View from Kayauchi-banta
To the southwest of the cape, there are Daisekirinzan mountains (大石林山).
They are the steep limestone mountains, and is the northernmost tropical karst landform.
Around the mountains, a paid park is set up.
We can see the mountains along some routes about 1 km long.
There is Kayauchi-banta (茅打バンタ) about 5 km southwest of the cape.
It is the steep cliffs about 100 meters high facing beautiful sea.
How to get here
By express route bus, about 2 hours from Naha terminal to Nago terminal.
Then, by route bus, about 1 hour from Nago terminal to Hentona terminal.
From Hentona, by route bus of Kinigami village, about 35 minutes to Cape Hedo.
But, the bus is operated only three times a day. (The distance is about 18 km.)
Hotels around Kunigami village
Other Tourist Attractions in Okinawa Prefecture
South part in Okinawa Island
Middle and north part in Okinawa Island
Other islands of the prefecture