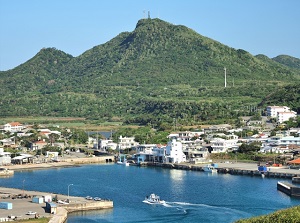 Kubura port in Yonaguni Island

Road in Yonaguni Island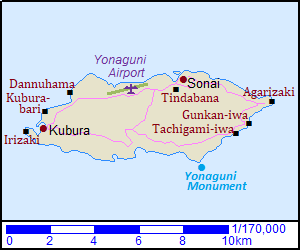 Yonaguni Island ("Yonagunijima" in Japanese) is an island located about 120 km west of Ishigaki Island.
It is the westernmost island in Japan, and there is Taiwan about 110 km west of this island.
The island is about 12 km from east to west and about 4 km from north to south.
Some islands around the island were formed by coral reefs, but Yonaguni Island was formed by rocks.
So, the island is mountainous.
There are some beaches in the island, but the sands of them are not so white.
It is thought that the ancestries from Southeast Asia were living in the island in ancient times.
A nation had exited in the 14th century, but it became under the control of Ryukyu Kingdom in Okinawa island in 1522.
After that, this island became a base place of trade between Ryukyu Kingdom and Taiwan.
In 1609, Satsuma Domain in Kagoshima invaded Ryukyu and Ryukyu became a dependency of Satsuma Domain.
In 1895, Japan won the Sino-Japanese War, then Taiwan was ceded to Japan.
Since that, many people had come to this island to do illegal trade and Yonoguni developed.
After Japan was defeated in the Pacific War in 1945, the islands in Okinawa became under American control.
Therefore, there were over 12,000 people in 1947, but the population has decreased by strong crackdown.
Now about 1,700 people live in this island.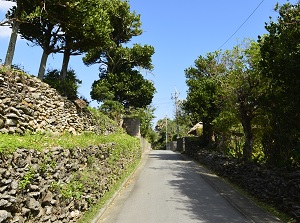 Street in Sonai village
Photo by Okinawa Convention & Visitors Bureau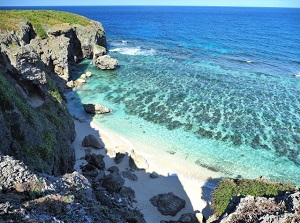 A beach in Yonaguni Island
The central village is Sonai (祖納) on the northeast coast, and has several minshuku.
The ship from Ishigaki Island comes into the port in Kubura (久部良) near the west end of the island.
Yonaguni Airport is located about 2 km west of Sonai.
Route bus is operated in this island, but it runs around only a part of the island.
So when you tour around this island, you should rent a car or a motorbike.
Western and northern side of the island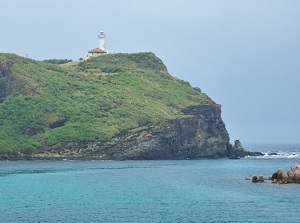 Cape Irizaki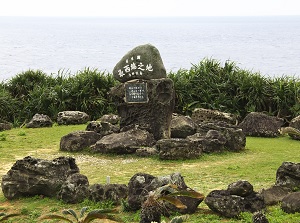 Monument of Japan's westernmost end on Irizaki
Photo by Okinawa Convention & Visitors Bureau
In this island, there are some unique natural spots.
Cape Irizaki (西崎) is the cape at the western tip of the island and is located about 1 km west of Kubura Port.
This position is at 24°26′58″ north latitude, 122°56′01″ east longitude.
Obviously, this place is the westernmost end of Japan.
Of course, we can see the Japan's latest sunset.
The sunset time around the summer solstice is about 40 minutes later than Tokyo and about 2.5 hours later than Nemuro in eastern Hokkaido.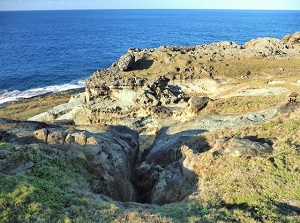 Kubura-bari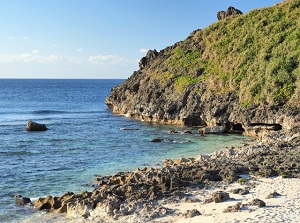 Dannuhama
Kubura-bari (久部良バリ) is a large crack of the rocks by the sea.
It is located about 1 km north of Kubura Port.
The crack is about 15 meters long, about 3.5 meters wide and 7 meters deep.
It is said that pregnant women were forced to jump over the crack to decrease the people in the island in the ancient times.
Dannuhama (ダンヌ浜) is a beach located about 2.5 km northeast of Kubura village.
The water is very clear, and we can enjoy swimming and diving.
There are the coral reefs along the coast, but you must never go out of the coral reefs because of the very strong current.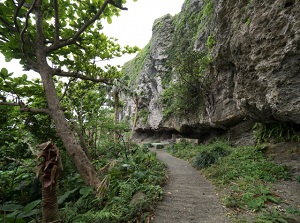 Tindabana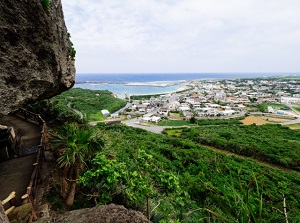 View from Tindabana
There is Tindabana to the west of Sonai village.
It is also calle Tindahanata.
It is a rocky mountain about 100 meters high.
There is a natural observatory near the top.
It is said that a woman lord who had governed Yonaguni Island lived in this mountain around the 15th century.
Eastern and southern side of the island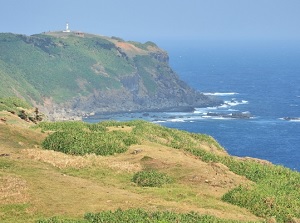 Cape Agarizaki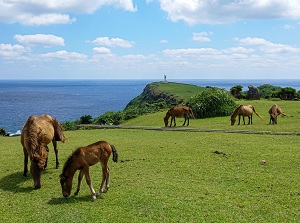 Yonaguni horses around Agarizaki
Cape Agarizaki (東崎) is at the eastern tip of the island and is located about 4 km east of Sonai village.
It is surrounded by the cliffs about 100 meters, and a lighthouse stands on the cape.
The grass field spreads, and Yonaguni horses and cows are pastured.
Around the cape, an observatory is set up, and we can see Iriomote Island if it is fine.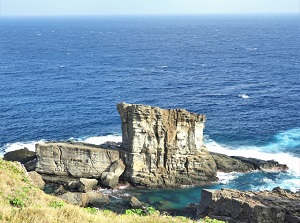 Gunkan-iwa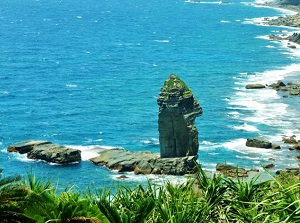 Tachigami-iwa
Gunkan-iwa (軍艦岩) is a huge rock near the coast and is located aboit 1.2 km southwest of Cape Agarizaki.
It means "warship rock", and the shape of the roch is similar to a warship literally.
There is an observatory on the rocky cliff in front of Gunkan-iwa.
It is called Sanninu-dai (サンニヌ台), and is the only observatory to see Gunkan-iwa.
Tachigami-iwa (立神岩) is also a huge rock near the coast and is locateda about 1 km southwest of Gunkan-iwa.
It stands on the sea like a tower, and the height is about 30 meters.
"Tachigami" means "stanging god", and the ancient islanders had worshipped this rock as a god.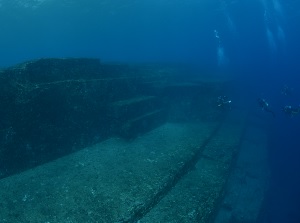 Yonaguni Submarine Ruins
Photo by Okinawa Convention & Visitors Bureau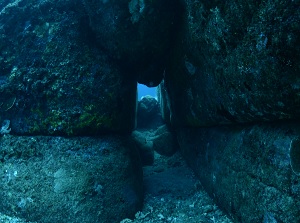 A tunnel of Yonaguni Submarine Ruins
Photo by Okinawa Convention & Visitors Bureau
There is a mysterious spot in the sea.
There is a cape named "Arakawabana" about 4.5 km southwest of Cape Agarizaki.
About 100 meters offshore of Arakawabana, there are huge rocks in the sea bottom at a depth of about 25 meters.
The rocks have the regular shape consisting right lines and flat surface, and the size is some hundred meters.
They look like ancient huge construction.
In English, it is called "Yonaguni Monument" or "Yonaguni Submarine Ruins".
It was found by a diver in 1986.
But, it is still being debated whether these rocks are the artificial ancient constructions or natural rocks.
The tour by glass-bottom boat is operated from Sonai.
Also diving tours are operated.
How to get here
By airplane, about 1.5 hours from Naha Airport, about 30 minutes from Ishigaki Airport.
By ferry, about 4 hours from Ishigaki Port to Kubura Port.
Hotels in Yonaguni Island
Other Tourist Attractions in Okinawa Prefecture
South part in Okinawa Island
Middle and north part in Okinawa Island
Other islands of the prefecture