Okinawa Churaumi Aquarium [
沖縄美ら海水族館

]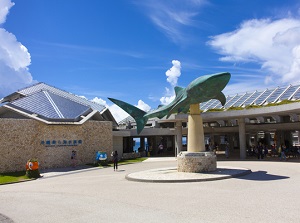 Okinawa Churaumi Aquarium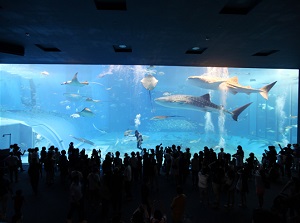 Large water tank in Okinawa Churaumi Aquarium
Okinawa Churaumi Aquarium is one of the largest aquariums in the world.
It is located at the northwestern edge of Motobu Peninsula extending to the west of Okinawa Island.
It is about 20 km northwest of Nago city.
"Churaumi" means "beautiful sea" in Okinawa language.
The aquarium has 77 water tanks, and the largest and popular water tank is 35 meters long, 27 meters width and 10 meters deep.
The aquarium shows the sea of Okinawa, the coral sea, and the deep sea around Okinawa.
It is opened every day except only for a few days in the early December.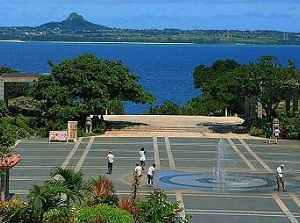 Center of Ocean Expo Park & Ie Island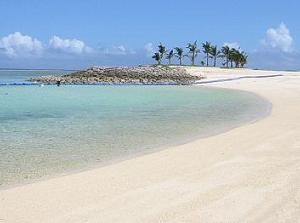 Emerald Beach in Ocean Expo Park
In 1975, Expo '75 was held to commemorate Okinawa's reversion to Japanese administration in 1972.
The theme of the exposition was the oceans, and about 3.5 million people visited the expo.
After the expo, the site was changed to Ocean Expo Park (海洋博公園, "Kaiyôhaku-kôen" in Japanese).
And this museum was opened in the park in 2002.
The park is along the beautiful beach about 3 km long.
There are some botanical gardens and some facilities such as Oceanic Culture Museum, Native Okinawa Village and Omoro Arboretum.
And Emerald Beach to the north of the aquarium is a beautiful sand beach.
We can see Ie Island about 6 km offshore.
How to get here
By express route bus, about 2 hours from Naha terminal to Nago terminal.
Then, by route bus, about 1 hours from Nago terminal to Kinen-koen-mae stop.
Hotels around Okinawa Churaumi Aquarium
Other Tourist Attractions in Okinawa Prefecture
South part in Okinawa Island
Middle and north part in Okinawa Island
Other islands of the prefecture